Seriously, I Have Something to Say
June 17, 2012
In this world we live in, it's full of hatred, lies, manipulation, pain, love, tears, joy, laughter and the good and the bad times. Why is it that we let society and the social network get to us? There's many reasons such as peer pressure where the need to fit in is a constant thought in the back of your head. Instead of trying to fit in, be the one to stand out because fitting in isn't always a good thing and leads you to doing things you don't want to. Society knows that a bunch of us gullible teens out here are easy to brainwash because they know most of us will do things we normally won't think of doing. For example us teens have ways of copying famous celebrities styles because it's seen as "cool." When Cassie shaved the side of her head, most teen girls started doing that. Chris Brown dyed his hair blonde so some teenage boys started doing that and Wiz Khalifa has a mini afro with a blond patch and a lot of boys started doing that. Of course some of us out here say were unique but what happens when you find the style you're rocking isn't original? You feel not so unique because you're doing something that society portrays in everyday life.

Facebook, Twitter, Instagram and Tumblr are just a few of the social network sites that are used daily. These social network sites are to help people connect and get along but nowadays the generation we have is out of control. You'll see half naked pictures of girls that get more likes than a girl who is covered up with a pretty smile or when a guy has reached his limit of 5000 friend while another is trying to compete for the same amount. There's people putting others private business out there, posting up fights that eventually damage a person's reputation and the ones who like to smoke daily always updating their statuses about how often they smoke. That's just Facebook and a little bit of twitter. Tumblr and Instagram is picture taking sites where you take pictures for fun. Social Networking is not how it used to be. It's more like a site used to just look unprofessional, ruin someone's life if you can and saying whatever you please because you have that " I don't care attitude." At the moment it feels good but what about when you look back? You'll see how much you could have prevented, chose what to say and learning to respect everyone and appreciate them for who they are.
Seriously I have something to say !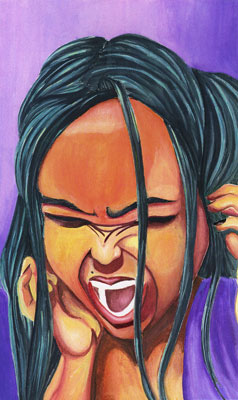 © Kriztille J., Briarwood, NY