Smiles of a Broken Heart
April 5, 2012
Time is a band aid, not a remedy. Time is just a number, a countdown to be precise; every breath is a grain of sand that trickles to the bottom of the hourglass where the mountain sand represents what's already spent of your life. Love is the only glimpse of eternity we, as humans, are permitted to see. Love is our eternity, our fraction of infinity… Time stand's still when we are in love but it flies at a blink of an eye. Love has no beauty nor limitations, it can be a very cruel and grotesque thing.
Love can build, can conquer; make a life or take it away. It's everything wrapped and made into matter but no matter what type it is or what shape it forms, love is still love. Call it hate if you wish for it is Love's mirror twin after all; hate is still love and love is still hate. The twisting churning knife that stays lodged in your gut belong's to no other fallen angel but Love.
"Love looks not with the eyes but with the mind
And therefore is winged Cupid painted blind"






- Shakespeare
Love is tragic and divine; a hunger that forces you to sacrifice your blindfolded heart. Leading you to stand upon the cliffs of humanity that overlooks the seas of pleasure and pain… There is where our hearts are forged and our very souls are cast and made. There is where we all return time after time, always searching and never finding something more. The cliffs are where we sacrifice our hearts and plunge ourselves into the blackened waters, hoping to miss the jagged rocks. To make it back to shore means success, Love has gifted you with it's essence and another chunk of your heart missing. But to become speared upon the rocks leaves you wounded and with a shattered your heart. You are swept to shore with a new festering scar, a vertical smile… a smile of a broken heart.
Yet, as humanity is, the constant search for more begins. You will meet others fated with the same as you, some freshly wounded while others are veterans of the same cruel mistress who constantly changes it's form. Go ahead and swap stories, learn a lesson that will soon be forgotten and maybe fall once more in love as you climb the cliffs once more. Sign that contract presented before you, dot your I's and cross your T's before taking the sacrificial knife once more to your heart. Pretty soon you too will have another smile upon your chest, a collection for smiles from broken hearts.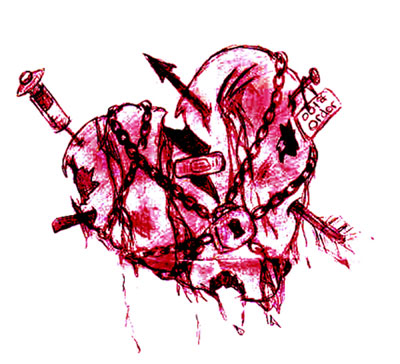 © Asia B., Hudson, MA