my first kiss
March 27, 2012
My first kiss.Well to be honest i haven't had my first kiss and the reason i haven't is because i want to kiss a person i truly love.That doesn't mean that i am going to go out with someone and kiss him because i think i love him.Then the brake up with him then go out with another person and kiss him because i think i love him.No! because then that would mean that i love the 1st person i kissed.People know on days say oh i love him with all my heart.Then the next day break up with that person after you just said i love him.That just for me doesn't make sense.For me that is not love.
Honestly i think that that is nasty that you kiss everyone that ask-es you out because that just makes you look bad and especially if you don't like them then that would be sad.My first kiss.My first kiss i wanted to be with a person that i love.When i say love i mean truly love not oh i think i love him but oh i don't know.For me love is someone that wants to spend the rest of their lives with you.Now that is truly love.Well except the one where you get married and then by a little fight they want to brake up.
I think is something nice if someone waits for their true love not for one that just would like to play with her.I think it would be pretty cool to wait till you get married and that be you're one and only kiss.That you gave you're first kiss for the person you truly loved,and spent their rest of their lives together.I mean am not trying to discriminate those people that have already kissed someone but iam just saying my opinion.Iam just putting how i would like my first kiss to be.I want to kiss the first person because i like them not just to kiss them to kiss.
The reason iam writing this is because someone asked my friend out for the first time and she said yes.The one week of going out they kissed for the first time.She was telling me that she would like her first kiss to be with someone she truly loved.She said that it didint felt good.Iam sorry if i hurt someone feelings wich it was not my intention.i just wanted to put my opinion out.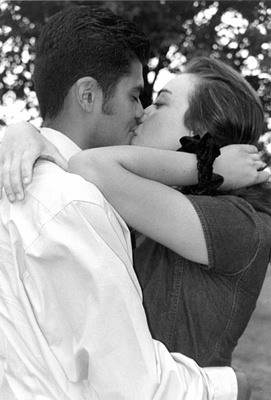 © Yaniris M., Boston, MA