A team worth dying for
November 27, 2010
During all of my 15 years of existence, I have seen close and strong bonds between teams. I knew so many of those girls, those soccer player athletic girls, with best freinds on the same field. I saw the pictures they posted on MySpace and Facebook of team sleepovers and car rides to practice. I saw this connection through pictures and stories that I ease dropped in. I envied these girls and their teams. I wanted to have a group of girls that I could huddle in a circle with, chant our team name, have sleep-over's consisting of taking hundreds of pictures and doing all those crazy things you would do with a really close best friend. What can I say? I was jealous. Sure I had close wonderful best friends, but what I really wanted was a group of similarities and differences, all coming together to gossip, listen, laugh, cheer, cry and have the time of my life with. Whether I was to be at practice or spending time outside of practice with them, I wanted this connection. Frankly, I never thought I would get it.


All my life I have been extremely clumsy. I cannot manage a sport with balls or anything with much coordination involved. In the fall of 2009, I joined my High school swim team. I could go into detail on how I managed to put myself up for that kind of challenge, but I'll spare you the 3 page story. I remember thinking to myself 'Maybe this team will be extremely close at the end of the season" well, we weren't. Who was I kidding? This is a high school sport, lasting a couple months. I did have many memories with them, and I'd be lying if I said that high school season wasn't some of the best times I've had. They were remarkable, but I never had a very strong relationship with anybody on that team. I decided to join club swimming after the season was over. I had loved swimming too much to end the season and wait until next year. I expected nothing from this club team. I had no clue how our relationship would be or who they even were. I was nervous for a long time coming into it, and I was afraid. What if they didn't like me? What if they were all amazing swimmers and I was the slowest on the team? What if I could never have laughs with them? It started out better than I thought. Months and months later, the team I expected nothing from, became a group of best friends and family.


You girls are the best things in my life. You are the smile on my face and my laughter at hard times, physically and emotionally. We're all swimmers and can bond through talking about fifties and hard sets, but with you it's more than just that. We could talk about anything. From the past to the future, from family to boyfriends, from heartbreaks and the best moments of our lives. I think of you as a team of sisters, all so similar but so different, younger and older, the girls that will always be walking ahead of me, warning me when there are pebbles in the road, as I do the same for you. You make me so happy that I ever started High school swimming, because without ever starting that I wouldn't be a part of this team today. Every day I look forward to leaving school and coming home, to my pool. To see you in my lane, to see you running a mile with me. We could be having a blast while running in negative temperatures and swimming the hardest set in the world. I thank god everyday that I have a second family like you to lean on and spend moments with. You are honestly a miracle in my life; something I thought would never appear in front of my eyes and turn into something I love so much. I replay all the memories we've ever had together, from swim practice to sleepovers and movie marathons. Things like eating way too much popcorn, singing along to Disney movies, dressing up..Weirdly, doing headstands, taking thousands of pictures and laughing at the simplest things are my favorite memories in the world. It's crazy to think about all the memories that are waiting to happen, it's a sigh of relief to know that this is only the beginning of something magical. There's nothing in the world I could ever trade for you, because you are everything I have ever wanted. Do you know how much it means to me to have a group of people cheering me on while I'm swimming the 100 back? I could come dead last and still be happy to have heard you cheering me on. THAT is why I love this sport so much, and THAT is why I keep pushing through the pain at practice. We do this for each other, as much as we do this for ourselves. How lucky and fortunate am I to have you in my life? I will always consider you my number one, the group of girls forever in my life. I cannot wait to spend years with you at the pool. My best friends, my sisters, my second family, and Thank you…for being the kindest, sweetest, loving, brave, supportive girls in the world. With you I can be myself; with you I'm completely happy and free. I love you sincerely, from the bottom of my heart, until the day we die. This relationship is hard to find, and here we are…A team worth dying for.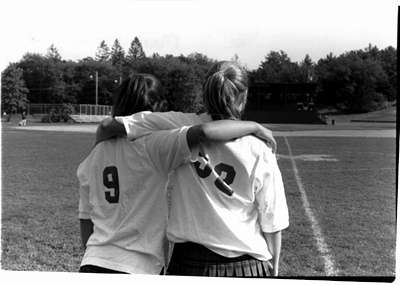 © Kelley C., Marblehead, MA