the blessing
October 21, 2010
The Little Blessing
"Oh how dare you text me this! I thought you were a man. What is your problem? I'm going to have nine months of this and you want to leave?!"
I stated out of breath because I couldn't do this anymore! My stomach kept rolling and I was exhausted from cheerleading practice. I slammed down the I-pad phone and grabbed my humongous ducky pillow from my 1954 Ford Truck that was blood red with the white seats, now smeared black mascara and red eyeliner my ducky pillow was red and glittery I swear my pillow hated when I was angry, because I heaved furious tired screeches in to my pillow. My eyes felt like the hover dam they crashed with over powering flow of water from them. The betrayal was heart sinking and gnawing at the stomach that held my perfect and innocent baby.
The ringing of his Ford 350 4x4 truck startled me to my core. I never would have thought of see him here at the place that I come to morn for my lost or just cry for one of my horse we had to put down. This was the place where I let out all my anger and frustration. I had the mountains sniggering in return for the fear of there life's. I heard him jump out of his truck and slam the door and hustled toward me.

"Okay" he said with his Sothern country boy accent. "What you mean I want to leave you I will do everything in my power to love you with everything in my heart do you know... that Ever Alex. I gave you my last name do you know I desire your blue butterfly winged eyes and strawberry blonde hair and your white warm skin that gives me hugs in the hall way before I see you after school…I'm so surprised we have time for each other after school with me being high school QB and you being captain of the cheerleading team. He kept rambling on apprehensively. I don't think I can make him stop. "Damon stop I really have to tell you something I… I'm pregnant" Yes Damon I'm pregnant I don't think that the birth control worked and yes we did everything right to you… it just we have this problem and what we are going to do my parents are dead …. And I'm about broke and the people next to my apartment are loud I have nowhere to go…Damon! Are you even listening?" He totally lost himself his blank face told me everything I need to know, aggravated I bawled and my legs weekend and made me collapse to the floor.
The next thing I knew I was staring at cotton candy pink and baby blue sky was some sort of relief…it made it more special when this muscular arms grip me around my tiny little waist and glided me across his lap, gave a little grunt to taking off my black boots as well as my socks also rolling my wrangler jeans up and placing my slim feet in the cool modest stream he gently took my hands in his and rolled them around to see the blue veins that were popped out cause of my lost temper he spoke soft little nothings in my ear that made my breath squeezed out of my clutched throat and my shaky scatterbrain heart. "Well then I think we're going to have to just move in together because I'm not letting my sweet pea and my little baby be by them self's.
"I, Ever Alex, take you Damon Love ,to be my husband, to have and to hold from this day forward, for better or for worse, for richer, for poorer, in sickness and in health, to love and to cherish; from this day forward until death do us part.
I, Ever Alex take you; Damon, to be my lawfully wedded husband, my constant friend, my faithful partner and my love from this day forward. In the presence of God, our family and friends, I offer you my solemn vow to be your faithful partner in sickness and in health, in good times and in bad, and in joy as well as in sorrow. I promise to love you unconditionally, to support you in your goals, to honor and respect you, to laugh with you and cry with you, and to cherish you for as long as we both shall live.
I Ever Alex, take you Damon to be my husband my partner in life and my one true love. I will cherish our union and love you more each day than I did the day before. I will trust you and respect you, laugh with you and cry with you, loving you faithfully through good times and bad, regardless of the obstacles we may face together. I give you my hand, my heart, and my love, from this day forward for as long as we both shall live.
In the presence of God and these our friends I take thee to be my husband, promising with Divine assistance to be unto thee your loving and faithful wife so long as we both shall live. You may now kiss you bride."
The months flew past like a wild fire by the time I knew it I was in the emergency room with Damon in blue scruffs and me in the bed dress with contractions that every 60 seconds man I felt like I was going to explode with tears I was screaming and clenching Damon's arm for dear life.
Like a one hour later I was holding a beautiful baby boy with caramel hair and the bluest eyes I have never seen. Well all I could tell was he had grate lungs. He was white like a piece of paper and warm like a towel that just got out of the dryer.
All I know was I loved them both with all my heart.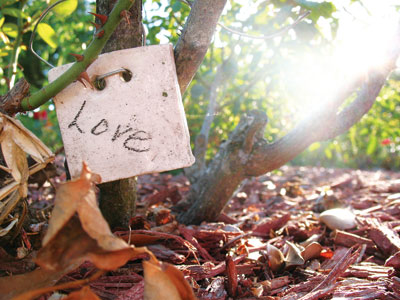 © Danielle L., League City, TX