Bad Luck?
September 6, 2010
When it comes to dating guys for me it always seems that I have bad luck. The relationship will start off all nice and everything and then in a short while it will just go all wrong.

For example, my first boyfriend, in my sophmore year of highschool, was very nice to me at first, we dated for about four months, but then I think two months later if I was feeling down he would tell me that if I didn't cheer up he would dump me. Or if I was still down he would tell me in class thathe sent me an email and told me to check it when I got home. So I would end up spending the rest of the school day freaking out thinking he dumped me and when I got home the email would just say, "Hi" So I would worry over nothing. Eventually he actually did dump me in an email, and until near the beinging of my senior year I was told by a firend that he was using me as re-bound girl.

My second boyfriend, he was more religious than I was. I wasn't allowed to use bad language around him. We only dated for a month and he dumped me, about I think last year he told me that he only thought of me as a little girl. That I looked up to him but he didn't have anything to look up t me for. The reason he saw me as a little girl was being at lot of the time I don't act my own age, I'm a kid at heart but I do know how to act my own age. I've told him this many times before but it never stayed in his head I guess.

The third boyfriend was a long distance reltionship. Before I moved I knew him for about three years before dating him. Well he would come up to visit me when he could and we were able to talk to each other esaily. When he came to visit, he was more into the physical part of the relationship, he even told me to my face that he wasn't sure if he loved me, and this was a few days after I told him I loved him. Around his birthday, which is in may, he called me, well as we were talking I figured out that he kissed another girl. He said he threw a little party for himself which involved him, another guy and one girl. Well he was drinking a little but he was still in his right mind of what was going on around him. Well he kissed the girl and did not once think about me, now this all happened after the first time I broke up with him over a stupid little conversation, and not even a week after giving him a second chance he cheated on me.

I've been told I need to find better guys but how can I if they are decent at first and then change later on? To be honest I don't have very much confidance in myself especially when it comes to guys, I also wear my heart on my sleeve which I have trouble with but I also care a lot about peoples feelings and I don't like hurting others. I treat people/relationships he way I want to be treated.

I would realy like some advice from anyone, my heart hasn't been at peace in so long and it is just making me depressed.

Please help, thank you.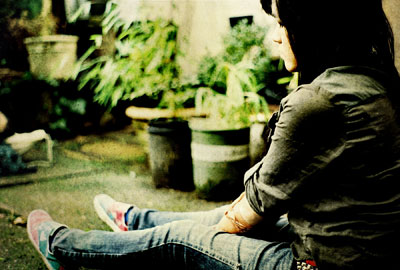 © Hailey J., Lake Oswego, OR