Gay Marriage: Ban or Legalize?
July 26, 2010
I believe homosexuality is wrong but I've mellowed in my autumn years.

There was a time when I would have never considered the idea, but now I see it as simply a union of two. People should be entitled to marry someone they love and care for, just because traditional marriage is between a man and woman does not mean same sex couples should not be allowed to be joined similarly. More emphasis should be placed on the individuals feelings in a marriage rather than the gender of the people involved, love is love.

The same types of arguments against gay marriage were used at ugly stages in history when other social change was fought. They fall under categories of religion, existing law, and social tradition. These were the bases to resist interracial marriage, inter-religion marriage, women's suffrage and abolition of slavery.

Most people look back on those days and say "How could anyone have ever argued women shouldn't vote, how terrible." A hundred years from now people will look back at the gay marriage debate and feel the same way.

If you're against it you would be for three reasons:

Firstly, your religion tells you so, that should not be an issue, but sadly is. Our laws aren't supposed to be governed by religion but why else do we have this law? Secondly, you're homophobic; get over yourself, not every person in the world hits on you, do they? Gays probably don't even give you a second look, stop being paranoid. Thirdly, it's unnatural. It is very common in many different species--black swans, gulls, elephants, penguins, and dolphins--to mate with the same sex. You go to the zoo and you see two penguins mate, you either laugh or videotape it and upload it to youtube. Next thing you know, baby you're a star! Is it then alright because animals simply cannot get married under an institution?

What a world we live in.

What confuses the life out of me is why there would be a law anyway, the government and society as a whole is controlling.

For instance, speed limits, driving drunk, carrying a concealed weapon, etc. Sure, someone needs to give limits and boundaries to keep people safe and out of harms way but somebody who sits in a fancy schmancy office decides someone else's relationship status? You're silly.

We give government as a whole way too much power as it is. Yes, you can have your opinion but I don't think "the law" should get the final decision. Think of it this way, you're in a shoe store; you try on pair A, because everyone is wearing pair A, but you think pair B looks better and feels right. What would you walk out of the store with? The shoes that everyone else is wearing, the "norm" or pair B, the shoes that feel good, the controversial?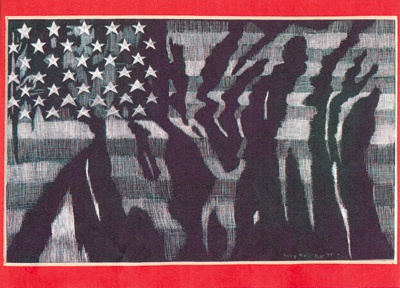 © Haley M., Ellinwood, KS