one word four letters
June 19, 2010
Love- a profoundly tender, passionate affection for another person.

One word, four letters. So important and so meaningless all at the same time. We throw the word around like confetti devaluing its value. Our lives have become built around this one emotion that we're all striving for.

What's so good about it? Doesn't it just end in tears anyway? Constantly searching for 'the one'. They could take years to find, and even then we may never find them. What do we expect from this person? I mean after all, he or she will be just a person like you or I.

Even still, I have my fantasies about finding that one exceptional person who is out there, just waiting. I'm still hoping that someday love will come my way and fill my life with happiness.

To wake up and know that there is someone out there thinking about me; to know that when I need them they'll come running; to have someone to share life's ups and downs with. One day I want someone to tell me they love me and mean it, even through the years to come.

A fairytale romance you might say. And that's exactly what it is. Fairytale. Fiction. Make-believe. Not real. And it won't happen to me. I could never be loved, and that's why I try to push my fantasies aside; because all I'm doing is setting myself up for a downfall. Who could love this insecure, unattractive, self-depreciating wreck? Nobody. That's why I don't believe in love.
Do you?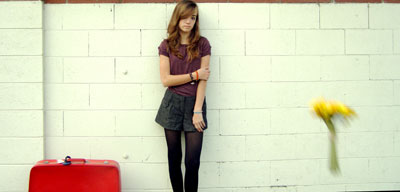 © Austin K., Studio City, CA