Denying Same-Sex Marriage is denying the Right to Love
April 2, 2010
Boy meets girl. Boy and girl like each other. Boy asks girl out. Boy and girl get married. When will it be acceptable for the circumstances of this classic story to be "boy and boy" or "girl and girl"? The United States of America was founded upon equality of all men, and we have definitely come a long way. Every race and gender has the same opportunity to achieve great things. Why is it that people are judged, ridiculed, criticized, and denied rights for loving the person they do? I personally believe that it is time for America to wake up and realize the reality of a changing world.

Contrary to popular belief, there is no official religion of the United States, so saying it goes against the Bible or God's wishes should not be brought up in arguments against the legalization of same-sex marriage. Churches and other religious groups should have the right to decide whether or not they will marry gay couples, but the government should not. In addition, using the argument that it isn't right is also very vague because who determines what is right?

Marriage isn't about government; it's about love. When the government gets involved, it makes marriage less sacred and beautiful. Saying that same-sex marriage should be illegal is basically saying that love is about taxes and buying houses together. It's not; marriage is a promise to love each other, care for one another during the hardest times, and respect one another.

America was founded on the goal to make an accepting, free country. Every man is entitled to "life, liberty, and the pursuit of happiness", and if you find the pursuit of happiness in your love for another individual, whether that love be of the opposite or same gender, you should be allowed to spend the rest of your life with that person.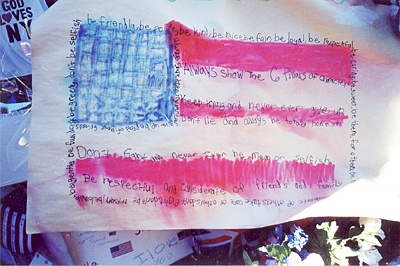 © Ashley F., New City, NY