Poverty: It Must End
September 21, 2012
The sun shone bright distracting the seldom sleeps in his luck. He couldn't keep his eyes shut and the sizzling sun burned his skin, like the heat of a candle melts the wax of it. It was another day to scavenge food at the busy streets of Toronto. His torn shirt revealed his bare torso and the ripped jeans exposed the breathing wounds. The boy's body bathed in sweat, as he walked by Dundas Street. Carrying a rusted bowl for money and a half filled centuries old water, his hope for food was still above the horizon. Many people walked by him, but no one even dared to drop a penny in his bowl, too busy in their day-to-day businesses. The boy still didn't give up. He has strong faith in his creator, but he still question's his lord that why did he chose him to suffer among all those rich people that spend their money like water. He remembered his mother's kind words. She used to tell him that there are two kinds of people on earth. There are good and bad people on earth. If you choose to be good person, there will tons of obstacles and barriers on your way. You have to fight as much as you can because the fruit of patience and suffering is always sweet. If you choose to be bad person, the path might be clear, but the end results will be devastating. Whenever, he remembers those words, it gives him courage to fight this world, to fight hunger and to stay strong. He would stand on sidewalks in between of roads and waiting for the lights to turn red, so he can beg for money. Most people ignore him as he walks from car to car, begging, crying for food and money in the name of God. Very few people dumped a penny or a nickel in his bowl, giving a disgusted look and most just waved him off. His life has become a hell on earth, but he wants to survive, be like other people, get educated and become a successful person. He doesn't know one thing, that sometimes people are blessed with wealth just to be tested on how they use their money. They are given heaven on earth to see if they use their money wisely.

Sometimes we don't get what we want. Even if we strive to earn that specific thing, we can't achieve it. We should be thankful to our creator who has provided us with the ability to see, smell, walk and feel. We should be thankful to God for no matter how much wealth we have been gifted with. Imagine! Imagine life without ability to see, feel or money to survive. We should thank God for the gifts he has blessed us with. If we don't, he can take it away from us within a blink of an eye.

We should not abuse what we have. There are other places on earth where people don't have what we have here. They crave for all the gifts we have. They don't get proper education, just because they can't financially afford it. There are many organizations that are working hard to end the term 'poverty' on earth. We should support them by at least donating a penny every day. Even a single penny counts and would be helpful. Just think!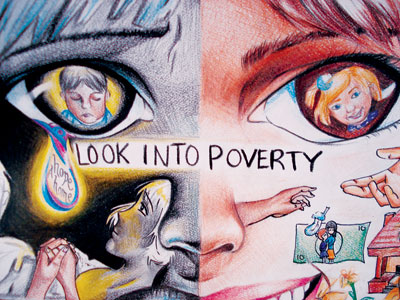 © Shirley L., Chino Hills, CA