My Multiple Me
August 2, 2012
Sometimes it takes tragedies to realize who or how many "whos" we are. In almost all books, like Their Eyes were Watching God, the underlying meaning is finding ourselves, and defining who we are. But with every bump in the road; with every twist and turn and hill- we change. Maybe the message isn't discovering ourselves, but rather testing ourselves and seeing how we react; building up our character. How can I so simply say this is who I am, when tomorrow I may not be her? Depending on our mood, our society, and our surroundings, we can be a mixture of "me"s.
Today I am W; as in wanderer. I am adventurous and I take chances; never afraid of failing or making the wrong choices. Maybe I should be I instead; I as in independent. The world is in my grasp, and I'm taking charge with determination racing through my veins. Today, nothing will stand in my way. I'll run, not walk, down this road of life and turn a mountain into a mere bump; every twist and turn into a highway; and a dead end into a gateway of opportunities. As W, problems are lessons, and sadness does not exist; only everlasting bliss. What is grief? Why be troubled by such minute cracks in this road when the sunset is just a few steps away; when the world is in your reach? Why? Today I was W; as in warrior.
Tomorrow I am H; as in humble. I'm not as bold, or as brave, or as confident; but I'm not weak either. The world is by my side, and together we are embracing this road, step-by-step; bump-by-bump. I'll still encounter the mountains, the twists, the turns, and the cut offs, but today they seem much more grueling. When I'm H, every right turn flings me into happiness, but every left turn whips me towards the sorrow. As I climb the mountains, I am over powered with fear, but the descend gives me hope and excitement. Every obstacle comes with so many different emotions that I cannot tell whether this journey is a positive one. I can see the horizon, but it's miles upon miles away; so far, I might not reach it. Tomorrow I will be H; as in hesitant.
Yesterday I was O; as in oppressed. The world, sitting so heavily on my shoulders, made me crawl down the path of life. As O, I am weak and see my surroundings as threats. I am scared to see what awaits me around each turn; for the outcome is never good. When I reach the base of a mountain, I just stand there dripping in agony and wondering if the summit is somewhere in that ominous grey sky above me. At a dead end, I just sit there and watch the sun set; why bother struggling to reach it. Yesterday, I didn't know what joy was, not even sadness-the only feeling I knew was depression. Why should I try to tackle even a hill when I'll plunge right back into hopelessness? When every crack seemed like a canyon, why risk jumping over it? Pain was my best friend-disappointment my sister-and together we set out on what seemed like a trip for disaster. I just hope I won't be O tomorrow; O as in overwhelmed.
But that mountain is still a mountain; whether I'm W, H, or O. Their perspectives simply change because of the stress and anxiety each feels that day. To an author, they are three characters, but to reality they are one individual; an individual dealing with new people, new problems, new places, and new emotions. So it is natural for that person to become new as well-not because he doesn't know who he is, but to adapt and become comfortable in a different environment. Each day is a different day, and authors fail to realize that. To them, discovering ones-self means happiness, strength, and independence. So if tragedies arise and bring with them sorrow, have we lost ourselves? If one day we get tired of holding up this cumbersome world, are we no longer ourselves? If for one second we fall to the knees of another, are we hopeless? With every bump in the road; with every twist and turn and hill- we change. So W-H-O will you be today?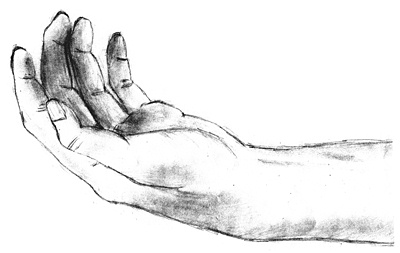 © Shana G., Cross Plains, WI