window
April 12, 2012
The lazy clouds were darkening and scurrying over the skies as if they all were in a race to cover as much area as possible. They were impregnated with moisture, and were expanding like a balloon, which will explode any moment and the rat race, the business and the uneven roads of Dhaka city, all will be drenched by the downpour. I love it when the sky starts to become dark at day. It is like the day and night have mingled together and formed a new time, like black and white mixing to form grey- a new colour, with a complete new meaning and aura. Mom used to say, there should be a balance and mixture of everything- good and bad, beauty and smartness, truth and lie, happiness and sorrows. And here the city from my third floor bedroom window lies in a complete mixture of gullible and evil people, trees and buildings, rickshaws and cars, rich and pauper, light and darkness.
As the chilly breeze was whistling through the streets to warn people to clear off from the shower of the fluid, I was standing by the window, taking in the last rainy scene from my bedroom window. The huge archetypal garden of mango, coconut, jack-fruit trees, along with dahlias, chrysanthemums and rhododendrons, will be chopped down next week, vacating the land for a four thousand square feet apartment building, which will be standing menacingly, obliterating the beautiful view I have been enjoying since my childhood. I used to talk to God looking up at the vast sea of stars, used to smile demurely staring at the glowing moon, used to dance on the melody of the rhythmic rain, close my eyes tight shut at the sight of the silhouette formed by the spooky trees. My childhood is preserved in this rectangular box cut out of the wall. So many tear drops dried up on this painted railing! How can I believe that the birds circling around the skies; the colourful shades of hue of the sky- cerulean, azure; the constant activities on the nearby pavement, all will be washed, like throwing water on the canvas of a beautiful painting?
But isn't that what happens to everything? I mean, everything is destroyed at one time or the other. Nothing stays forever. The world is transient, so is everything the world belongs. The irony is, it's us annihilating our own world.
The water hit the earth. The few figures on the street trotted to their nearest shed. The leaves beckoning the rain to wash the dirt off their surface, rendering them new and pristine, as for me, I spread my arms (like in the cheesy hindi movies), close my eyelids and embrace the last wonderful raindrops from my memorable window.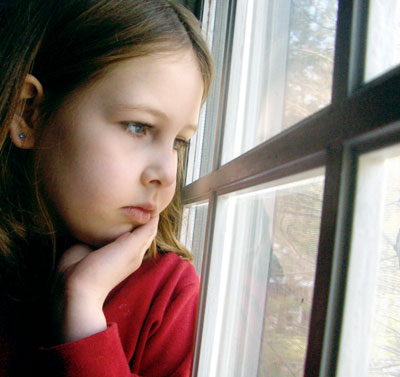 © Dana D., Gansevoort, NY