Summer of Toads
May 27, 2011
When I was little and in summer camp, there was nothing I loved to do more than catch toads along the river that flowed through my area. Both parents worked in the summer, and at the age of eight, I was enrolled in ten hour-long day camp Monday through Friday. I had few friends at the camp, so I resorted to staying by the meandering creek in the woods that fed into the huge river flowing through the state. At the time of my first enrollment, I couldn't have asked for more toads. There were literally toads everywhere- some people had inadvertently crushed the smaller ones because they were so abundant on the forest floor. I loved to goad the little amphibians into a plastic cup with my finger and then pick the cup up and study my little captured toad before gently releasing it.

The next summer, though, when I came to camp in June there was a noticeably decreased amount of toads. Where I previously found plenty to catch, I had to look for a while. It wasn't until July that the amount of toads and frogs surged to its previous label, and I soon shoved the initial lack of toads into the far depths of my mind, forgetting it to go catch the new, tiny toads that hopped around the forest.

When I was ten, I could not find any toads at all in June, and only a few in July. When the first few weeks of August rolled around, the toads began to appear, but my ten year old self could not forget the summer without any toads to catch and look at. In addition to not seeing the usual numbers of toads, I had noticed that the few toads that did appear in August were much smaller than in previous years. I began to worry a little, but then summer ended and went back to school.

When I was eleven, twelve, thirteen and fourteen, I could not find a single toad at camp. I waited all summer, looking up and down the creek banks, but there were no toads to be found. I looked in a boggy area, where mud was several inches deep and where raccoons had discarded their leftover food. But no toads were to be found- only several large bullfrogs that croaked loudly and splashed into the creek every time I walked too close. My summers of toads were over.

What I failed to mention is that during those six years I attended camp, enormous residential developments had popped up along the creek and river. Every summer, the creek got darker and darker with sediment, with more often than not an ever-ominous white sheen on the water. When I was eight, our counselors encouraged us to go into the creek and swim, or at least wade around. When I was fourteen, they warned us to stay away from the water because it was too dark to see what was swimming in the creek. Year after year, large amounts of crawfish would litter the banks of the creek, dead. The beaver dam slightly downstream became abandoned. Multiple raccoons were seen floating down the stream, decomposing.

My summers of toads were ruined by river and creek pollution. It's not too late to save the other rivers and creeks nationwide. Who are we, as humans, to deprive other children of experiencing nature, to destroy the once-pristine creek? I want the children of the future to have a summer full of catching toads like I did when I was eight, and the only way to do that is to start taking care of our natural resources and stop poisoning them. If conservation efforts went into place not only along major waterways but along the seemingly minor ones too, the harmful effects of pollution can be reversed, if not slowed. I ask the world to reconsider, if not for my memory, but for the children who are born this year, who deserve an innocent summer a decade from now.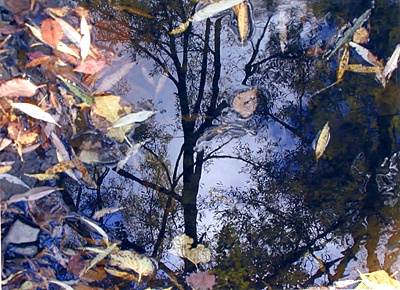 © Alex B., Rome, NY