Reading Yourself Into a Healthier Life
May 14, 2018
The terminal velocity of a falling .30-caliber rifle bullet is 300 feet per second, which is enough in some cases to pierce the skin. Only 35% of all adults have 20/20 vision. Hundreds of years ago, farmers used a mixture to seal their barns which contained rust, giving the barn its stereotypical red color today. All these seemingly simple things I have come to learn, all came from reading. Although these facts may seem useless, where they are stemmed from, from reading, is one of the most important things for a human to participate in. Both nonfiction and fiction have their place in affecting the life of an everyday person.

The first style of books that can be beneficial is fiction. Depending on the person, fiction can often seem as either the best type of book in which the reader is captivated and brought to a new and interesting realm, or it can seem as useless, lacking any beneficial facts whatsoever. However, no matter the view, there is no denying the real ways in which fiction books can change the ways in which people feel and act.

One of these major items a fantasy based book can do for a person is reduce depression. A Guardian article titled, "Reading Your Way Out of Depression," by W. B. Gooderham tells some of the ways fiction can do this. These books are capable of reducing depression because of the amount of attention they require. The captivating experience of reading a well written book, often demands a high amount of the readers concentration. This causes the reader to forget their own personal struggles so as to focus on the world created by the book. Gooderham classified this experience as being a "calm-amid-the-chaos." This peace that is described to be generated by reading is a major factor linked to relieving depression.

Another major benefit of reading fiction is that it amplifies the empathy in a person. A 2016 Washington Post article talks of a study conducted at the University of Toronto. One of the authors Keith Oatley, states the following based on his research: "When we read about other people, we can imagine ourselves in their position and we can imagine it's like being that person, that enables us to better understand people, better cooperate with them." Reading fiction is often idiomatically told to "Transport the reader." The reality of this statement comes from how readers are put into the places of other people, especially within first-person narrated stories. Doing this helps people to empathize with the characters read about, and from that, like Oatley said, empathize with others in everyday life.

Like it's counterpart, fiction, nonfiction is capable of positively affecting the human brain and life. In fact, The National Association of Scholars published an article by William H. Young in 2013 telling how Common Core State Standards have recently changed their standards to increase the amount of nonfiction youth read throughout their schooling. They decided to make this change because of the many benefits, especially for students, that reading nonfiction has on people who choose to read it. A strong outliner of this was provided by an older study titled, "Reading Between the Lines," based off of the 2005 ACT scores of tested high school graduates. In this study the fact that about only about half of those 2005 students that participated in the ACT exam were at a college ready reading ability. Later, the study notes, "…the clearest differentiator in reading between students who are college ready and students who are not is the ability to comprehend complex texts." As this older study reveals, reading nonfiction as a student can be a significant benefit to one's education; furthermore, it can provide more success throughout a postsecondary education.

One thing reading nonfiction could do for person is prolong their life. Putting aside a book's ability to increase mental health, there is another way it can lengthen a life. This simplily comes from the amount of information that is obtained from nonfiction. A 2015 study from "Plos One," a scientific journal put in place by the Public Library of Science, looks deeper into this connection. In this study, data revealed that people with a college degree tend to have a lower average mortality rate then those who do not have a degree. The researchers even stated that someone with a lower level education is more likely to develop diseases such as cardiovascular disease or cancer. Virginia Chang, a contributor to the 2015 study, tells in the 2015 article, "How Higher Education Could Prolong Your Life," that an education helps a person to have more cognitive skills as to access and understand information. This ability makes an educated person capable of finding and applying to their life data from places such as nonfiction health sources. What this reveals about nonfiction is that reading these texts, as is required by most to all college undergraduates, has the ability to provide and grow an awareness about oneself, and in turn, prolong that life.

No matter the personal preference of readers, it is quite evident that both fiction and nonfiction have their unique capabilities in changing the way people act and live. These ways come from variety of sources such as reducing depression, increasing empathy, strengthening an education, and even prolonging one's life. The fun facts learned from reading are more than just fun. Through the process of gaining this knowledge, the life of an individual could be tremendously enriched. To live a more healthy and successful life, it is important to make reading more than just a hobby, and instead, make a true effort to do so with every passing day.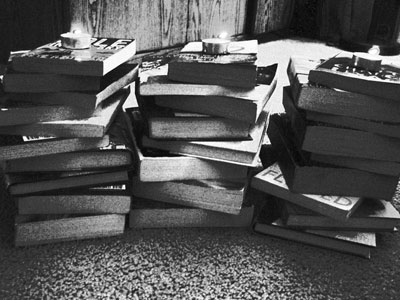 © Alexis R., Clarkdale, AZ