Antisocial Behavior Is Destroying the Economy
April 11, 2018
Nowadays children, tweens, teens, and young adults are antisocial more than ever. They won't stop to smell the flowers or even leave the house. They prefer to be alone looking at a piece of bright blue rectangular glass. I suggest they are looking at the wrong screen. I propose that they should look up from their screen go to the movie theatres? Theatres a year ago experienced a net loss of $174.5 million compared to a net gain by internet streaming services profit of $24 million. 54% of the population is to blame. If people started going to the movies more, we could save our theatres.

Americans now prefer to stay home, sit on the couch, and scroll through their screens. They stream new movies on their computers and spend $11.9 billion on streaming services'. This resulting in a multi-million loss in movie theatre profit might be salvaged if people are willing to go out and stop being anti-social.

The theatre economy will not recover unless teenagers and adults get up from their couches and chairs and summon the nerve of leaving the comfort of their home to watch the latest motion picture. The new technological generation needs to enjoy an afternoon of popcorn, candy, and a good movie.

They need to start inviting their internet chat friends to come and enjoy the movies with them. How hard could it possibly be to ask their closest chat buddies to come face to face and watch a movie with a companion?

The Pew Research Group demonstrates that 94% of teenagers spend time with their existing friends through social media. Pew reports, "eight-in-ten (83%) of social media-using teens say social media makes them more connected to information about what is happening in their friends' lives and 70% say these social platforms better connect them to their friends' feelings," as if they were face to face with the individual. Kids need to learn how to look at people's faces, not their latest profile pic. How can you possibly keep in touch with one another if you are busy just looking at the person's head? These kids lack important interpersonal relationships with other, more interpersonal communication skills that they still have to develop.

Teenagers find comfort in communicating with other human beings through screens. It is causing them to avoid hanging outside. They would much rather look at their screens and express their emotions through emojis than look at the complete person head to toe. Next thing we know kids will be living their lives through their phone. Meeting with a group will be just going on a screen. Kids will go to the movies together by watching a movie at the same time on a phone. This lack of real hanging out is causing the downfall of profit in the most popular pastime of American culture: going to movie theatres. Other pastimes are sure to follow. Golfing with your pals will just be playing on a Wii.

You may be able to text your friends to spend some time with them but only when you finally take your nose away from your phone.

Once the 246 million cinema lovers who still go to movies get their close friends to join them, theatres will be more profitable. As a result, streaming will slowly decline because people will want to go out to experience a good movie in theatres with their friends.

Besides, many fantastic popular movies like Coco, Black Panther, and Frozen are best viewed on the big screen. People need to start meeting other people in person, so they can get out of their houses, learn social skills, and help the economy.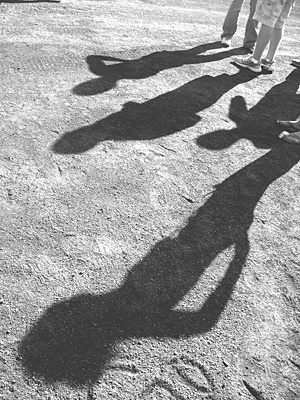 © Trella R., Mountain Lakes, NJ