Heroes
October 1, 2017
Who is a hero? The amount of attention the media gives celebrities suggests that they are today's heroes. For example, when a celebrity goes to jail for driving under the influence, everyone has to know. Yet, when an average person saves an elderly man from a burning building, he is just considered a Good Samaritan. So. . . who is the real hero?
A hero is someone who is admired or idealized for courage, outstanding achievements, or noble qualities. People that I consider true heroes are people who are or have been in the military. The ones who have been overseas or on the front lines, with bullets flying by. I believe that these people have done so much for our country, but they don't get nearly enough credit for the things that they have done.

People who I think are even more courageous heroes are war veterans,and the scum of the earth humans who say they are military personnel but really are not are disgusting. These people have taken glory and respect from the real heroes: those who have actually been in and fought in a war. They did all of this to protect the people of our country. Our military personal are the real celebrities!

These heroes risk their life every day, but what do they get in return? One superstar, Russell Westbrook, makes 26 million dollars a year for playing basketball. A private in the military gets paid $16,824 a year with veteran discounts. That is still a 26 million dollar difference, for playing basketball and going overseas. Even though I love sports, I think that the person who risks his or her life to protect the people of this country should get paid more than a person playing a sport. Unfortunately, that's not the case.

A hero is not a person who plays a sport and does random acts of kindness. A hero is a person who performs courageous acts for our protection and our country's protection. These are the people that deserve the high salary, fame and the glory from all.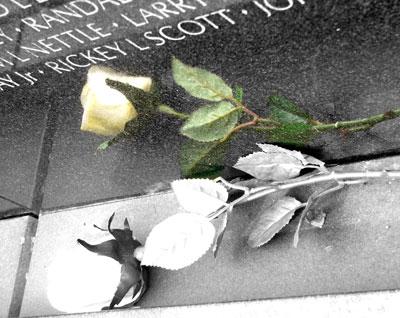 © Kimber E., Yorktown, VA