Analyzing Trinas Role in "Falsettos"
September 20, 2017
With open homosexuality on the rise in the late 70s and early 80s, the nontraditional family structure became increasingly prominent in the everyday American life. This idea of the nontraditional family was explored in Falsettos, a musical written by William Finn. Falsettos explores many aspects of what an 'abnormal' family would have consisted of in 1979 to 1981. In the ensemble cast of characters you will see homosexuals, divorceés, and people who are in the very least neurotics and insomniacs. One character, however, stands out for her complexity and strength. This character is the seemingly common housewife, Trina. Trina is a mother of one and the former wife of a man named Marvin, who abandoned Trina when he fell in love with a man, Whizzer. Trina is a captivating character because we get to see her both at her best and at her worst as she attempts to gain control of curveballs life has thrown at her. She is a woman that is self-described as someone who holds to the ground as the ground keeps shifting.

Falsettos dives headfirst into its story with very little introduction. When we first see Trina, she is beginning an appointment with her psychiatrist, Mendel. She is very clearly not well. While talking about her situation with Marvin, her ex-husband, there is a lot that the audience can learn about Trina's backstory. One phrase that she says that stands out is, "I'm everything he wanted. It's time I put it all together. The date was set, my father let me marry; I married (Love is Blind, Falsettos)." Trina had always tried her hardest to be the perfect wife. She cooked, cleaned, and did everything in her power to take care of her husband and son. When her father pushed her to marry she became the perfect wife, which is why the divorce has left her so shaken, because even though she did everything right, it wasn't enough, because she devoted her entire adult life to a man who was unable to love a woman. But it's not just a failed marriage that causes Trina's stress. She has a ten-year-old son named Jason, and his emotional state isn't at its best either. Being as young and confused as he is, it's understandable for him to act out because of his parents divorce. Jason's hatred for his father translates into tantrums and isolation from children his age, which naturally is concerning to Trina as a parent. She feels at a loss with Jason. She decides to help him the same way she helped herself and refers him to Mendel. Mendel makes great strides with Jason, and at the same time falls in love with Trina. Although it is not written specifically in the script, when watching the stage production you can see that Trina has fallen for Mendel as well. The two get engaged which causes some friction with Marvin, who believes that Trina doesn't really love him and rather is just desperate for company. Marvins anger towards Trina is an opportunity for her to grow. For the first time in the show we see Trina being completely candid with Marvin. Trina finally admits to herself and Marvin that she never did love him either, and they both realize that they had only loved each other for the idea of a traditional family. Trina does get to experience real love though, with her son and her marriage to Mendel. She also rediscovers love once more when Marvin's lover Whizzer becomes a victim to the AIDs epidemic. Although Trina had felt resentment for Whizzer for a long time, he had become sort of a second stepfather to Jason, who is only twelve when he dies. Trina gains a love for Whizzer while he is alive because she realizes that because he has taken part in raising her son, he shares her life and is very much a part of the nontraditional family that Trina has come to accept and cherish.

Trina is more than the distressed housewife she appears to be. She strives for balance and control while the men in her life run wild. Watching Trina transition from a struggling single mother to a happily re-married divorceé succeeding at co-parenting is something truly inspiring. William Finn constructed her storyline in Falsettos so perfectly that we as an audience get to feel a certain pride when she achieves her happy ending. It reminds us that no matter what downfalls our lives can face, in the end, everything will be alright.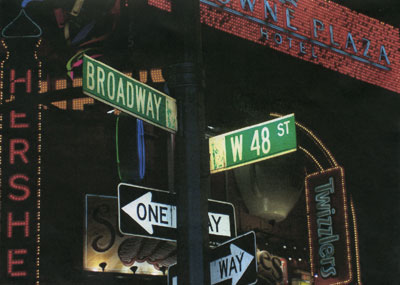 © Kaitlyn S., Milford, CT