Should the Government Censor Social Media?
February 16, 2015
Social media is a big part of modern culture, filling us in on information about the newest celebrities, or what are friends our having for dinner, but is social media actually bad for us? Many find social media a waste of time and want social media to end, while others find it beneficial, and say we should keep social media around. Although social media can be inappropriate, social media is also a great contributor to our society. Social media is helping us in ways people don't realize by helping the government display information to the public, allowing amber alerts and other announcements that help the police on their sites, and by helping us get a perspective on the world around us.
Social media is used by many, and even (recently) the government. Big officials have started making Twitter accounts to help the public keep up with current business. In the article "How governments are using social media for the better or worse" by Zachary Sniderman (a current graduate of Harvard and Columbia School of Journalism) the following was stated: "The white house has even several Twitter verified for state entities such as the secret service (@SecretService), the Open Government Initiative (@OpenGov), a Spanish White House account (@lacasablanca) and an official account for White House Press Secretary Jay Carney (@presssec)."  This means that information can be given using social media. These accounts make it easier for others to stay in touch. Some may argue there are different ways to give the current information without the use of social media, but this is one of the easiest ways for the government to give information out quickly for the public.
Another reason why social media should stay is because it helps police departments give announcements on current criminals, areas to avoid, etc. You might argue that social media does the opposite, causing identity thefts and giving predators opportunities, but in the article "Social Media's Top 5 Contributions to Society" by Samantha Rupert (an account executive at social media agency Fishbat, Inc. with expertise in SEO, social media management and public relations) the following was stated: " Twitter even donated a promoted hashtag (value estimated at $200,000), #OneBoston, to lend support to victims, according to Ad Week. More importantly, networks like Twitter proved to be a safety tool for people in the area. The Boston Police Department tweeted up-to-the-minute news describing injuries, death tolls and areas to avoid. In an effort to keep phone lines clear, police asked people to use social media to communicate." This means that social media is helping police give up to date information for the public, and is saving lives in the process. Another quote was found in the same article: "Recently, the NYPD nabbed about 60 gang members who boasted about violent criminal activity on social media. In other states like Oregon, authorities have arrested people for drinking and driving after they bragged about it publicly on Facebook."  This even further proves that social media is teaming up with authorities and by doing so is saving lives, and helping bring criminals to justice.
The final reason why social media should stay around is because it helps reflect real world problems. This can be interpreted as a bad thing because of the gore that could lead to violent actions, but once we dive into the truth of it all, we find that social media could lead to violence, but the chances are extremely unlikely. The following quote was published in article "Blame the Media" by Glenn Halbrooks (For the past 11 years has been the weeknight news anchor/managing editor for a CBS TV affiliate) regarding the following information: "Primetime TV producers, songwriters and video game producers have arguments of their own. They say their works merely reflect the world in which we live, so the blame shouldn't be placed at their feet. An unscientific About.com poll showed 47% of those responding say hip-hop music is not to blame for violence in the streets. Songwriters might say Eric Clapton's classic hit I Shot the Sheriff didn't lead to increased shootings of uniformed law enforcement officers just because people heard the song on the radio." This proves that most of the time, violent content does not lead to violent behavior, but then why could social media reflecting real world problems be beneficial? That really depends on the consumer. Users themselves have the power to use social media's realism for the better, some have the power to use it for the worst, but that is the USERS decision. Social media shouldn't be blamed, or taken away because of the users.
Social media has it's pros and cons, but when we look at the pros, we can realize that its pros overpower there cons. So why should we censor or get rid of social media when it helps us in so many ways? We could lose our own culture in a blink of an eye, unless we take a stand. We can keep social media around by not taking advantage of it. The only way we can prove that social media is good, is if we use it for good. So, are you going to help make a difference?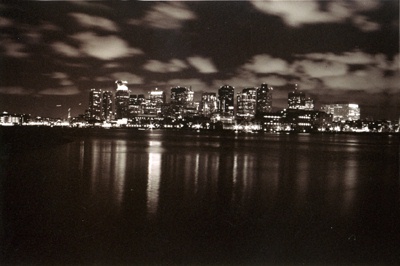 © Hoang P., Rochester, NY