The Facts
September 1, 2014
The use of tobacco is a very commonly used substance in America. Not just for teens but for the public in general. Different studies show different groups of people and percentages. But in the end our world is just increasing the tobacco use. One person quits and another person starts.

Tobacco is the second most addictive substance in the world. The first one being heroin. Both which are bad for your body. Your body is not fully developed until 21 years of age. Which means the lungs are still not at their strongest until that age. At age 9, 35.4 percent of children in poverty start smoking. And their lungs have not even reached half way developed yet. The percent surprisingly goes down 23.8 percent for sixteen year olds. And thee adults in poverty are in the middle at 33.3 percent.(American Heart Society) Lots of social workers and counselors are saying that children in poverty smoke more because they do not do well with peer pressure. And because smoking helps with the everyday stress.


On the other hand even regular everyday children smoke. On an average of under 18 over six thousand children smoke on an average each day. Almost two thousand of them become regular smokers by age 21.About one in five smokes worldwide is smoked by children under eighteen. (American Lung Society)

But out of all the children and adults, the high school students smoke as well. A survey which was took in 2001, 5.5 percent of eighth graders smoke daily. Tenth graders have about 12 percent. Twelth graders have the highest being 20 percent. And overall twenty eight percent use throughout all the grades.

At the end of the day cigarettes are bad for all people. Being a younger child makes it even worse. The earlier on in life you start smoking, the harder it is for you to quit. Smoking is bad and it is growing throughout the states.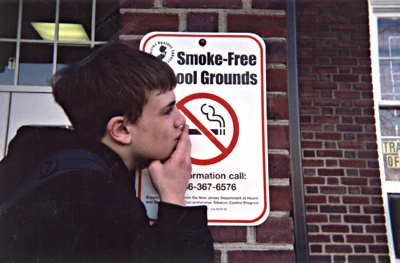 © Ali S., Pompton Plains, NJ