Thanksgiving
March 27, 2013
Thanksgiving is a family holiday, a time of joy and togetherness. It's a time to reflect on the past, enjoy the present, and look forward to the future. Everyone comes together to celebrate the year's successes and spend time with one another.
The room fills with happiness and laughter as everyone starts Talkingandtalkingandtalkingandtalkingandtalkingandtalkingandtalkingandtalkingandtalkingandtalking Anddrinkinganddrinkinganddrinkinganddrinkinganddrinkinganddrinkinganddrinkinganddrinking
I feel fine as I get behind the wheel. Rushing to get home and resume my normal life, I become just one more car, one more number.
I am unresponsive as the cars collide. The metal around me starts to crinkle and fold. I'm thrown from the car and the world starts spinning. Blood-coated glass covers the asphalt beside me. I hear the trembling cries from the other passengers and think…

No way to get out

No way to get help

No way to get home
Unable to move, I drift in and out of consciousness, waiting.
Life passes me by

Friends
Family
School
Holidays
All of my wishes and dreams
I watch it play by in the quick flash of a second
Inside, I die
Quickly, painlessly
The anticipation is gone,
An eerie calm has taken over
Thoughts race through my mind
And I count this a loss

Red

Blue

Red

Blue

The lights flash.

Sirens start to wail
Louder and louder…

As I go under in a drunken haze…

Becoming just another number in the statistics of holiday drunk driving crashes.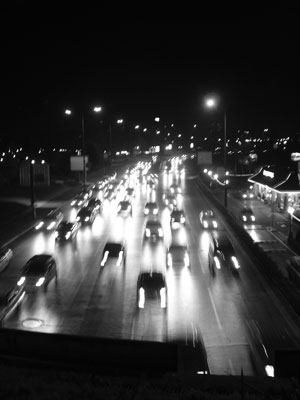 © Marietta S., Pleven, Bulgaria