Colours:The Dark Side
August 19, 2016
When we are asked to talk about colours or put fourth our thoughts on the same, we naturally drive our minds or rather say that our mind automatically drives it's thoughts towards admiring the beauty of the variety the nature offers in these.
Now, let me have the pleasure of driving the mainstreamly pondered notions of my perspicacious readers on given to think of colours to that of another lane of the same road we are driving on. Let alone here the mainstream thoughts of colossally admiring the beauty of nature and keep ourselves for a while from being perplexed from admiring the variety and exaggerating each phrase flaunting our love for nature. I might apparently sound to you as clichéd or pessimistic perhaps persuading you to come out the philosophical 'John Keats' phase, but as we come out of that phase and hit the reality, it might hit us hard.

Baffled?

Lurching out the realm of the abstract issue I am very much talking about discrimination that these colours we are admiring bring along. The dark side to the enchanting beauty. I as each one of you concur to the fact that colours add beauty to our living. But you will concur to the very fact that they also bring grief to many. We address ourselves as civilised, aware, educated citizens of the world. We on one hand intensely adore the blessing of the almighty and on the contrary kill people for bearing a darker tone on their skin. Why? Perhaps because the hypocracy has so deeply been evolved in our blood that our blood itself refuses to let go of it. And this hypocracy again refrains us from admitting our hypocrite. Just to quote a recent example- Two blackmen get forced to death by a group of policemen clad white in the United States; Another instance- A black father writes an open letter, intimidated, to his black son expressing the fear lest his son might be slashed to death owing to the current scenario in the US and the son replies with the same intimidation expressing the uncertainty of his own living as well as that of his parents. The news goes viral and we 'AWARE' and 'SUAVE' citizens choose just to be aware with the same and to pay heed but just to read to then give a sorry monosyllabic expression 'OH!' trying to sound punctilious and scroll the next on the news feed. But come on, what's wrong with doing this? "How does it affect me afterall?!" being the reason. Ever gave an introspection to the voice inside while pondering of such issue.

Discrimination breeds somewhere in almost each one of our minds, which we refuse to confess, saving from the minds of those who are bound to suffer this. To those who do not concur with my opinion, I ask you, those lucky ones having the while tone, would any of you choose to marry a black guy or girl? A real black? Certainly not dear reader! Let us admit to the very fact then. We can't remove or alter this thought because we don't want to admit that there is an obnoxiousness in the thought that lives in our mind and to remove this obnoxiousness we need to admit that we too have the thought being talked about. Till we choose to live with all this hypocrite inside us, nothing will ever make its move to better. Calling someone 'black' might most certainly give rise to a controversy but killing him for being 'black' might most certainly not!
'We all have some secret belief of our own that we do not wish to acknowledge, the voicing of it by someone else rouses us to a fury of denial!'

Would there be any beauty in the world if all of us had the same skin tone? Perhaps yes! At least then our minds would be colourful, for we could not discriminate.

In colour blindness, a rare phenomenon, a disease that takes away the person's power to differentiate the colours, the retina may not support his desire to admire the beauty of colourful objects but his mind certainly does since it can't discriminate between the colours and hence is way more colourful than that of a normal person and so this person holds far better a perspective than the rest.

We, blessed with the variety are the suave citizens are the ones who choose to disregard. Discrimination lies in our thoughts and actions and not in those poor colours. Let me here quote an example of a simple tool, a knife: Suppose a person while slicing vegetables for dinner goes berserk and slices the throat of the person standing next to him, will the judge blame the carnage on the knife or on the manufacturer and order it to be hanged? I suppose not! So my perspicacious readers, is the fault to be blamed on us or the poor colours or almighty for creating those? You have your answer right there I may guess.

Further,

Let Obama be praised for being the first black US President and not for his capabilities and the discrimination will continue to prevail. Let Rosa Parks example be read in curriculum to be read and then forgotten and the discrimination will continue to prevail.

Now let me have the honour to quote a few lines from The Speech of the Year by Zimbawe president-
"Racism will never end as long as white cars are still using black tires. Racism will never end if people still use black to symbolise bad luck and white for peace. Racism will never end if people still wear white clothes to weddings and black to funerals. Racism will never end as long as those who don't pay the bills are blacklisted, not whitelisted. Even when playing snooker, you haven't won until you have sunk the black ball and white ball must remain on the table. But I don't care as long as I'm still using white toilet paper to wipe my black butt, I'm fine! "

Let us all keep our habits of being major critics and find flaws and look disdained at this audacious man for the creepish toilet paper remark and discrimination will continue to prevail. Discrimination, my beloved readers, won't end till we grant colourless parole to the imprisoned humanity in our minds and rather put behind the invisible bars and ultimately hang the invisible 'coloured' filth in our minds- Black or White! Let us get over with the major mainstream stereotypes and further remain actually mainstreamed by only colossally admiring the beauty of these than taking the other lane of the road I mentioned in the initial para, where the discrimination prevails! And so can we make those stereotypes into beautifully framed ideas by a simple shift of perspective...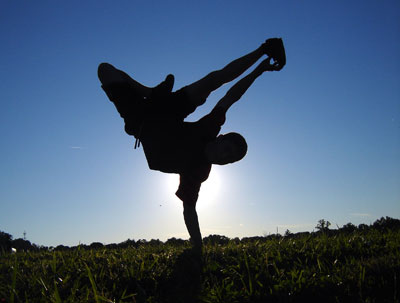 © Seita O., Louisville, KY