Unity in Diversity Is Hard to Achieve in India
July 2, 2016
"Unity in diversity is easy to talk about but hard to achieve in a country like India"

India is a country where people belonging to different religions, castes and ethnicities, communicating in different languages, having different values and beliefs, leading different lifestyles, worshipping over a thousand different gods and goddesses live together in one country.

Living in a country with people from different religious, cultural and linguistic backgrounds does not mean that everybody will be tolerant of their beliefs and practices. We will always have fanatics who think that their ways and school of thought is the right path to follow and anyone who doesn't fall in with their respective ideology is not fit to live among them. Sometimes these fanatics take things a little too far. They damage religious properties, start riots, kill innocent civilians for questioning or disobeying certain norms and rules.

In every city/village of India you will find evidence of such incidents. Churches have been vandalized in Agra and Delhi (the capital of the country). The Muzaffarnagar riots in Uttar Pradesh, where the Hindu and the Muslim community clash resulted in 62 deaths and left more than 50,000 people displaced. These acts of violence, tell us that the citizens of our country are only big on talk, but don't actually practice "unity in diversity".

Another facet of our country not accepting diversity is there contempt towards people who have a different skin color. We often here about hate crimes committed against people from the north-east part of our country. They are subjected to name calling, get harassed by narrow minded people and all because of their physical appearance. Nido Tania a student from north-east, studying in Delhi was killed by an angry mob on a street in Delhi. This discrimination extends as far as the sports sector in our country, where 5 times boxing champion Mary Kom was ill-treated because she was from Manipur.

Politicians play a pivotal role in these communal/cultural clashes as sometimes they make speeches on public forums that are provocative in nature. It instigates one community against another community. They make such speeches to get votes by playing one against the other. They give importance to one religion that is in majority, while showing complete disregard for the other religion. And we get influenced by this and give our vote to them. As that particular candidate belongs from our community. Someone very aptly said that, "We don't cast our vote, we vote for our caste." The ideology of Hindutva which has reportedly inspired many incidents of communal violence in the recent past, 'the Muslim violence in recent times , the Mumbai riots(1992, 1993) and the Gujarat riots(2002).

Thus, Hinduism being the largest religious community in our country, it should be the first one to celebrate differences, so that there are no more incidents of communal violence.

"Celebrating diversity opens the door to discovery" and thus we should all celebrate diversity not just tolerate it, and then only can we move forward.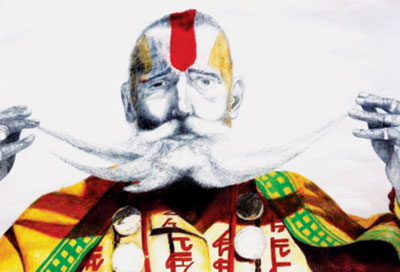 © Luke K., New Orleans, LA