Racism
December 5, 2012
Name: Shiro Ameiro

Age: Not saying

Gender: Female

Race: Human, unfortunately. I wish I was at least part Elf. Not really a fan of being a Dwarf. But it'd be kind of cool to be a mermaid, though. Wait! There's angel, isn't there? I'd be Elf and angel. Oh, yeah. That'd be awesome.

Wait, you meant skin color? Well . . . . It's on the white side . . . . with a bit of peach . . . . perhaps a peachy off-white? But if I stay out in the sun too long, I burn, so it turns rather red. I don't tan well.

You didn't mean the exact color of my skin? So why'd you ask? Oh . . . you mean am I African American, or Caucasian? Or perhaps English American? Or Asian? Or . . . .

Stop right there. You'll be having me list the mocha people too. Dude, I have no idea what you're talking about. All those people are just darker than me, so why should I care about naming my skin color because of where I came from?

This is what it is to me: White, black, mocha (they're a mix of white and black), cappuccino (they're Asian), and going on from there. Do you want me to describe it differently? It's offensive? Alright: White chocolate, dark chocolate, caramello, milk chocolate . . . .

That's offensive too? How many things are offensive??!! Wasn't this a place of free speech???!!!

What? Black is called African American? What about those white African Americans? Don't argue with me; they do exist! They live in South Africa! What do you mean they're not natural? They've lived there all their lives.

But not all blacks have lived in Africa. They're American. So . . . Isn't it offensive to them to be called part of a nation that they've never lived in, and perhaps have no intention of going to Africa? So why call them African American? I get it if they're immigrants from Africa, but even then they're black.

What do you mean I must hate blacks? I think black people are awesome. I mean, c'mon, who doesn't want to rap like a black man? Who doesn't at some point want hair like a black woman's? I know that, from time to time, I'd like to have a black woman's hair. What they can do with it is really cool.

Now I hate Asians? Dude, seriously? The name's Japanese. If I truly hated Asians, I'd be naming myself White Rain-Color instead of Shiro Ameiro, right?

I just like the language? Well, I do like the language, but I also like Asians. The only thought I have had about how different they are was about how cool it would be to be Asian.

Now I hate Hispanics? Excuse me, when did I ever say that??!! Stop putting words into my mouth!!! I do not hate anyone who isn't white!!! Why do you insist that I hate something merely because I'm something else?

No, I do not hate Hispanics. What's the next "race" you're going to say I hate?

Look, peace people. We've just got different colorings, alright? I don't see why we've to got classify skin color.

Oh, because there's this big prejudice against other colors? Well, guess what? There are a lot of prejudices. A lot of them irrational. Who cares? We can't change the way they think. You're only proving you're racist because you're trying to "protect" the other colors with a bunch of laws and the such. Give me a break. We're all people.

So, my race? Human. And that's okay.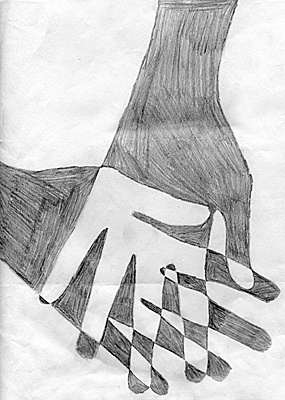 © Warlito B., Tamuning, GU