Peeling off The Masks of Twenty-First Century Teenagers
May 21, 2012
In the modern day society stereotypes are ever growing and teenagers are classed under headings which can be hurtful and untrue. However, it's not just the fellow youths who class them in these groups – it can be adults too.

Before you ask, yes I am a teenager and no I'm not wearing a hoody or carrying a gun! Can you seriously say that today's youth are much worse than the mods and rockers of the former generation?

In the modern society teenagers personalities are being overstated by their image. The term 'don't judge a book by its cover' has disintegrated into thin air and the act of stereotyping has been adopted by the whole globe, by humans of every age.

Once stepping out if the house the world critics surrounding us start to judge, on our height, weight, clothes, makeup, hair, voice and general appearance. In the first ten seconds of being under the eyes of the general public you, as an individual, are sorted and put under a stereotype heading. Common ones are: Emo, Goth, Jock, Plastic, Nerd, Geek, Wannabe, Gangsta, Scene, Preppy, Skater, and Posh. Each of these personal tags has their own image. Yet, people who tick one box of a stereotype image can be classed in the category.

Many people, however, do not realise the knock on effect from these tags. Already 78 percent of 12 – 18 year olds in the UK are unsatisfied with their appearance, and 65 percent, of people that I interviewed, worry about being stereotyped as something they are not.

A bad stereotype can lead to bulling or being excluded from a friendship group. But it doesn't stop in the playground. In the twenty-first century not only individuals are labelled but also places of education, towns, counties and even countries. The English is commonly looked upon as tea drinking snobs, totting around in expensive outfits and bowler hats. Yes we English do drink tea, but when was the last time the bowler hat was in fashion.

These stereotypes can give countries a bad reputation leading the world to look upon it in the wrong context.

Likewise, teenagers can get a bad reputation from their stereotype and the opinions of the world can rapidly turn against them through false accusations. It is known that these can even lead to the individual latching onto the tag and undertaking activities and fake personalities that they believe that they should be or do.

We, as earth beings, need to come together and look beyond appearance. We need to stamp out stereotypes which ruin our society. This I believe will create an atmosphere where teenagers will not be judged or pressuring into looking a certain way. Self-confidence will rise and true colours and personalities of people will come into the light. So next time you see a teenager wearing a hoody, walking past you in the street, don't turn the other way and walk as fast as you can. Think about their feelings and accept them as an individual.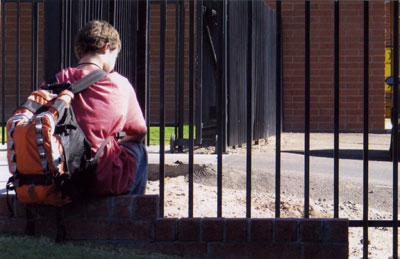 © Molly L., Phoenix, AZ