Roots
January 12, 2012
"I just had a blonde moment."

"I swear, you should have been a blonde."

"You are so blonde."
"Do you have blonde roots?"

I resent these comments. "Blondes" have a reputation; people think that, just because you are blonde, you are dumb. People even make up stupid jokes and call them "blonde jokes". When I say something wrong, it is because "I am blonde". When I make a mistake, it is because "I am blonde".

I am forgetful; I am a procrastinator; I say silly things; I do not always do all my work or get it all right; I do not always do everything right; I do not know everything, but I am also blonde. That must be why I have so many flaws. I am in the eleventh grade, taking two college classes, making great grades, and holding down a job. Does that sound like a dummy to you? I think not. I do not like to be called a "blonde" when it is implying that I am dumb. Because I am not. You cannot categorize all people with blonde hair as dummies. I am blonde, and I am very smart.
I think it was the blonde celebrities that gave us our reputation, celebrities that have had struggles, such as Britney Spears and Jessica Simpson. Being human, we do not always make the best or wisest decisions, but "blondes" seem to have the worst luck. People like to think they have a solution for everything, so when someone does something wrong, they blame it on their roots. I cannot even count how many times my mistakes have been blamed on my hair.

I think saying, "You are so blonde," is just as insulting as, "That is so gay," or, "It is because you are black." Seeing as I am a smart, blonde-haired person, I am obviously offended by comments about a blonde person being dumb. ONE dumb blonde does not make ALL blondes dumb.

So, next time you think about cracking a blonde joke, think about all the smart blondes of the world. Give us some credit.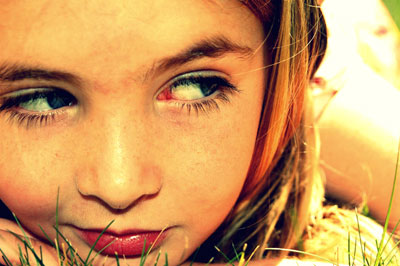 © Katherine A., Hopkinton, NH