Beyonce, Blackface is not Fashion!
April 5, 2011
The mask which the actor wears is apt to become his face -- Plato

Yes, Beyonce, ever since you came out with your hit single- Single Ladies, I started to think of you as overrated. Go ahead, Call me a hater! But she gets played all the time. I remember a time when that's ALL I EVER HEARD on the radio. D-D-D-Diva is a female version of a hustler on 97.9, All the single ladies, now put your hand up on 95.7, and I can see your hal-oooooo on 104.1. And that's when I labeled you as overrated and gets too much attention along with Lindsey Lohan and Paris Hilton.

And you know what's killing me? It's that this woman is getting labeled as a superstar. Whaaaaaaaaaatttttttttttt! No, she doesn't the greatest voice of this generation. No, she's not even all that great of a dancer. No, she's not even an outstanding actress. So, why in the world is she getting several awards and gets nominated every year. And why in the world is she getting praised for doing the smallest of deeds? And can someone please tell me why is she always in television and magazine ads? She even has a diet named after her! Maybe I'm missing something...

And now you go and darken your face (blackface), call it fashion, and say that it's paying tribute to Fela Kuti (A Nigerian musician and Human Rights Activist). Oh Gosh!

I'm sure she knows that she had participated in a historically-racist act? That blackface is taking shoe polish, greasepaint, or burnt cork and applying it to your face and blackface has had it's roots in the 1883 minstrel show where a white performer (Thomas "Daddy" Rice), impersonates a black slave who happens to be crippled he knew whose name was Jim Crow. Allegedly, "Performers defended slavery by presenting denigrating stereotypes of Blacks who supposedly needed the civilizing influence of slavery to keep them in check. Black slaves were portrayed as happy and content with their lot in life and fearful of life outside of the plantation." The show ended in 1919 but, blackface was carried into the 1950s, and was found on London television until the 1970s. That's just about 40 years ago! Forty Years Ago!

Forty Years Ago, VCRS just started becoming commercially available. Forty Years Ago, the first supercomputer was created. Forty Years Ago, was the begginning of floppy disks. Forty Years Ago, Microwave Ovens just started becoming commercially available. Forty Years Ago, the Feminist Movement was a big trend. Forty Years Ago, America started it's first Earth Day. Forty Years Ago, the Vietnam War was ending. Forty Years Ago Is Not A Long Time Ago.

While walking through the rice aisle in a grocery store, have you ever seen the brand Uncle Ben? Did you know that Uncle Ben has had a history of being apart of the blackface act? Originally under the name of Uncle Tom. Uncle Tom was a stereotype of plantation slaves and free blacks and Toms are usually good, gentle, sober, and religious. These images of Uncle Tom were a favorite of advertisers.

And while walking through the pancake aisle in a grocery store, have you ever picked up a box of Aunt Jemina's pancake mix? Did you know that Aunt Jemina is also a part of a black stereotype? Her stereotype was under the name of Mammy and Mammys are very independent, doesn't accept backtalk, and very wise. Mammys are usually darkskinned, heavy, and has large bust area. She is overweight, has tasteless, bright clothing, and very spiritual ("Lord have mercy" is a phrase commonly heard by her) Her image has changed (she's much skinnier and lighter skinned) over time.

What does this mean? This means that these stereotypes a very much alive today, Common stereotypes of African Americans being portrayed as poor, lazy, very religious, criminals, and violent. Also, having a love for fried chicken, Kool-Aid, and watermelon. The birth of these stereotypes began with the minstrel shows. Minstrel shows often showed African Americans as
ignorant, lazy, a buffoon, superstitious, musical, and joyous. These stereotypes have not changed much over time.
Back to Beyonce...

As a response to the controversy surrounding Beyonce and the French Magazine, L'Officiel, they said... "Far from the glamorous Sasha Fierce, the beauty posed for the magazine with amazing fashion designers' clothes, but also in a dress created by her mother. [It is] A return to her African roots, as you can see on the picture, on which her face was voluntarily darkened." Again, Whaaaaaaaaaaaaaatttttttttttttt! At this point, people are starting to wonder what was Beyonce thinking? And what does Beyonce say about this issue? Does she consider this art/fashion? Where is Beyonce on this issue? Does Beyonce even see this is an issue?
She knows that this was preventable. She knows that she didn't have to do this? So, all I want to know is why, Beyonce?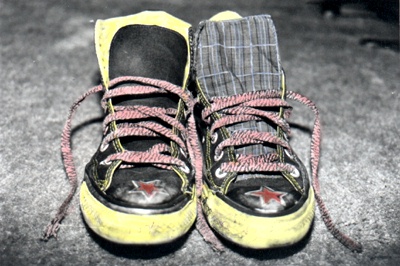 © Dawna B., Lancaster, CA