It's Not Wrong Because You Say it Is
March 9, 2011
Being gay isn't wrong. Saying it is, is like saying, it's wrong for you to be a girl. Or it's wrong for that child to have blond hair. Even saying it's wrong for that kid to have that color of skin. It's not wrong at all. It's how they were born and they are unable to help it.
If god didn't want them to be that way than they wouldn't be. God makes the decisions around here. He chooses how we are. By you going against it you are going against god. Just because they don't fit your cruel vision of the world you don't have the right to diss them. They are people too.
Would you be a jerk to a straight guy just because he didn't like the same person as you? Doubt it. But, would you hate a gay guy just because he doesn't like women? Yeah you probably would when really those two things are the same.
People who are gay, lesbians, or bisexuals don't think differently than you. And they aren't doing you any harm. They don't run around with a gun saying, "I'm gonna kill you cause your not gay." They are just trying to live a happy life. What is wrong with that. What's wrong with being human, and different.
If you don't like them, then don't look at them. But, don't make their life hell just because you don't understand them.
And that what I think anti-gays problems are. They don't understand. And they aren't even trying to. It's time for you to try. I'm not saying become gay so you can understand. Just try to imagine life from their point of view.
Is it really that hard?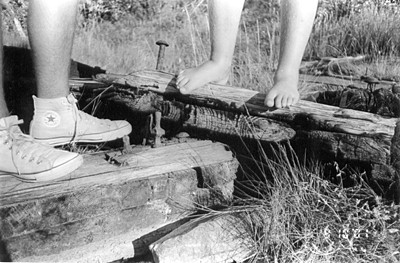 © Sarah R., Marblehead, MA