My Experience with Racism
March 12, 2019
Racism has been a big problem in society for many years, no matter where you go in the world, racism exists. It works both ways, while people often say white people are the only racists in the world, however, all races can be very racist. In this essay, I will share my experience of racism during a period of time that I lived overseas.
I had just finished my holiday in South Africa, I was at the airport, ready for the long flight back to Abuja. Our flight was delayed and we had to wait for a few hours until boarding. I went to the bathroom where a woman held her hand out and demanded money to enter. At the time I thought nothing of it, however, when I was coming out, a black man was walking in, got money out, but the woman said, "Go ahead." I was shocked, I couldn't believe what I was seeing, I observed for 10 minutes, and she let every black person in for free, and charged every white person. I was having a chain of thoughts, I was angry, seeing this racism, as I've never seen this happen before, I was thinking, who is even in charge of hiring these kinds of people, do they even realise they're hiring racists? I angrily stormed away and told my parents about what happened, they clearly had seen this before as they didn't look surprised at all.
A few months later we headed to Abuja airport, for our flight to England, we got out of the car and we started getting out our suitcases, one heavy one dropped, but, a very nice gentleman picked it up for us. We thanked him, however, a man shook his head in disappointment, he said to him, "Why would you help these white people?" I was angry and wanted to rant at this man, but I had no need, his friend, the man who helped us, who was of the same race, was disgusted. He started shouting at him and telling him how foolish he was for being racist, I don't think he will change his opinion, however, he might keep his opinion to himself now at the very least.
With all this said, I was so young, about nine at the time that this was my only understanding of racism was white people hating black people because of their skin colour and vise versa. As I grew older I realised, it's so much more, there's more than two races, and as I became more exposed to the world, I realised that racism is a lot more common than I originally thought, and I was about to discover new heights of racism.
I moved back to England in July, 2015, I went to a new school that had a great reputation, and where people were very respectful. I had a trial day, it wasn't what I expected at all, however, I thought I couldn't judge after one day, and I agreed to go there. It was a very hostile environment, we had quite a few racist people in the school. There was a boy in our class who was from Turkmenistan and he was referred to as some people in the class as the N-word, and he was also called a Muslim terrorist which was horrible to see. I tried to report it, to help the lad, but all that happens is they deny it, and no one else comes forward.
This wasn't the only instance of racism at my new 'excellent' school, halfway through the year, a Chinese girl joined, she had some mental issues, however, people in the class didn't make her feel welcome from day one. Some people kept saying 'Ching Chong' to her which she was offended by, nevertheless, it didn't change, they then started to stretch their eyes and say it, which offended her even more. Eventually, she quit the school, and who could blame her.
Unfortunately, as I have experienced more, and become more mature I have realised that racism is implanted in all cultures, in all countries, cities, and towns. Not only one race is racist, every race has people who are racist to other races. who will judge people not on their personality, but instead the colour of their skin and where they're from.
People need to stop judging fellow humans because of their skin colour or where they come from, it's a thing of the past, a page torn out of a horrible old book, we are all the same species, we have the same body structure, just different races. If you see a racist, don't listen to their justification, it's wrong before they even say the first word of why they're racist, racism should not exist in society. So, I end my essay with four words, say no to racism.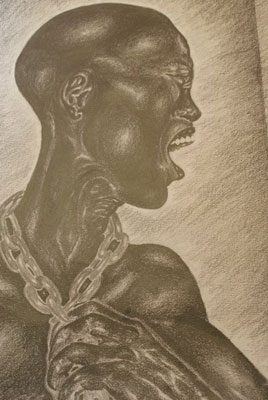 © Catherine M., Bronx, NY