Seven Thousand Empty Pairs of Shoes
May 9, 2018
They are the only ones who will never see us again. We are the only ones who truly ever knew them. Seven thousand pairs of shoes with loose laces and scuffed heels. Seven thousand who do not deserve to be empty, but are. Seven thousand individual lives taken by the killer. From up above they watch, as their loved ones choke in the sorrow and misery of the empty hole in their lives, unable to be replaced.

Their future is secret. They are placed on the flat lawn for a purpose. They line up in rows as they spread down the yard and touch the green grass beneath their worn soles and fight for the chance to change the future because they should be standing there today. This is the stance they make.

Let no one forget their reason for being, they stand together, each a victim whose life was stopped short because of violence. Change, change, change they request as they lie there. They hope.

When we are too scared and too depressed to keep fighting, when we are a small force against powerful bodies, then it is us who remember the shoes. When there is little hope left to make a difference. Seven thousand who were perfectly placed on the grass. Seven thousand who stand together for change. Seven thousand whose lives will not be forgotten.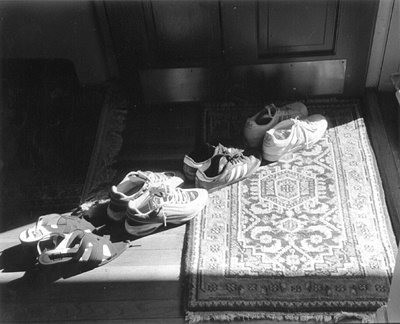 © Caite P., Marblehead, MA