With Trump
April 9, 2018
Yesterday.
The man stood in front of the crowd, above them, on a stage. "We will make this country great again." We? We? Are we electing ourselves? Is it our job to be the president? No. "They're bringing drugs. They're bringing crime. They're rapists. And some I assume are good people." He's talking about them coming over the border illegally. He wants to build a wall. A wall? I ask. Yes, a wall, he replies. They're stealing our jobs, he claims. They're dumping their problems on us, he claims. Then he says we need to ban immigration. It's just a small step, right? No. "I think Islam hates us." Two crimes in one sentence. It's their fault, not ours, you say. They hate us, not the other way around. And they hate… us. Not you, not me. All of us. All of them too. Bring us together, with hate. It's the easiest way. They hate us, apparently. We need to act, you compel. No, you're wrong, I say. Your whole campaign is blaming others, saying what we could do to make it better. No, you're not really saying what we could do. You're saying what will get you elected. Nothing else. You won't get elected. We're smarter than that.
Today.
A man stands in front of us, the alpha zombie, and we are the betas. We follow like sheep. He leads like a shepherd, but not a good one. He leads us through ditch after ditch. Across busy road after busy road. How many sheep has he lost? Many of them. But some sheep are so blinded that they must follow him forever. He's killing them. They won't stop until they've been lead onto a runway and hit by a plane, until they've been shown a cliff and told to jump, until they've been told to take a gun and finish the job themselves. Only then will the sheep turn away from the life of a sheep. Become a human. The thing that makes us human is our brain. Not our ability to hate. Not our ability to love. He took away our humanity, made us into hating-loving sheep. Not thinking-hating-loving humans. He won't build the wall, though. He doesn't have the support. Right? He can't ban immigration. Right? He can't remove funding from education. He can't make the rich richer and the poor poorer. He can't be racist. He can't be. He can't…
Right?
Please say no.
Tomorrow.
He sits in front of us. His face is shriveled. He's bald. He's dying, they say. He's led us sheep for decades. I thought our laws stopped him from doing that. Our laws aren't anything when a shepherd has enough sheep. You said the sheep would leave the shepherd when he led them to extremity. They won't when he's pulled out the sheep's eyes. Don't some of the sheep have eyes? Those that do are still sheep.
Now he is dying, they say.
Now he is dying.
What comes next? That's my question. We should have asked it thirty years ago. Why didn't we? There was yesterday. There was today. There was tomorrow. What comes after tomorrow?
What comes after tomorrow.
The day after tomorrow.
We go on, of course. But we can't go back to yesterday. We can't just not elect him. We can't even go back to today. We can't go back even to all the days between today and tomorrow and now that it is tomorrow, we have to think about that day after tomorrow. We can't live in the past. We can't even live only in the present. We must live in the future. We can try to go back. Go back to what once was. Repair our relationships with all the countries we've warred upon. Tear down that wall. Welcome new immigrants into our country. We can do all of these things, but it has to be we. Not me. Not just one leader. We.
The sheep will lose their shepherd and be faced with a question. Find a new shepherd? Or become a real human. I'd pick the latter.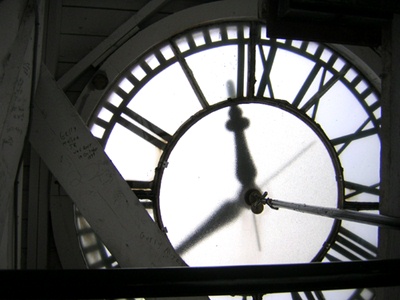 © Tatyana Z., Norwood, MA