I Have a Dream
April 9, 2018
Valentine's day is a day where love should envelope us all. A day where every person should be shrouded in an endless supply of endearment from the people they love. A day where for once in a world filled with violence and confusion, love can reign supreme over hate. But there was no love or kindness or endearment on February 14, 2018. And there never will be again, for Valentine's Day has been transformed from a holiday of love, into a grim reminder of the seventeen lives lost at Marjory Stoneman Douglas High School. Seventeen innocent lives whose deaths could have been prevented if our government cared for our lives more than they do guns.

Across the nation, our schools are being transformed into warzones. Desks and chairs now function as barricades, walls are now home to bullet fragments, students are now soldiers fighting a futile battle they can not win.
Everything is doused with a layer of anguish, splattered with crimson, and tormented by the unfulfilled dreams of the dead. And you can wash out the blood, and give us empty promises of a better future, but you will never be able to clear our consciences of the nightmares that will haunt us forever. You, who watch as mothers and fathers and loved ones cry over the caskets of their children, take this as an invite to heartlessly defend the association that let this all happen. Because somehow, something as abstract and irreplaceable as a human life means nothing in comparison to a gun.

We are being transformed from the generation of future innovators, into the generation of the broken and the dead. Our unalienable rights have been stripped away from us just like the lives of thousands lost to gun violence. This is the future America is heading towards. And if we continue to sit and watch without acting against this dilema, the home of the brave will soon become the home of the broken. I have a dream that one day the American government will realize that the lives of unique individuals are far more valuable than guns. I have a dream that someday, we can fill Valentine's day with love again.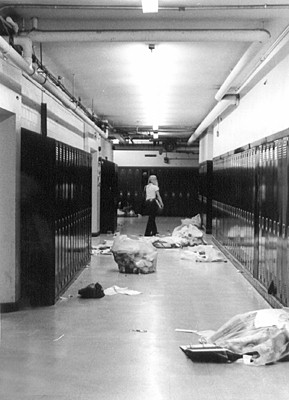 © Halsey S., Marblehead, MA