Give a Teen a Job: Running the Country
March 24, 2018
In the month following the Valentine's Day Massacre in Parkland, Florida the national stereotype about teens has been sorely challenged . We're not just about decorating the gym for prom night. We can charge forward on serious issues and effect change with lightning speed, while seasoned politicos remain stuck in the muck that they throw at each other.
The state government in Florida finally brought together both parties to update gun laws, after years of failure. And, a powerful walkout happened at schools across the country--including NRA stronghold communities where this kind of protest had been all but impossible to pull off. This all went down specifically because the debate team-slash shootout survivors- from Marjory Stoneman Douglas High School took their act on the road to lawmakers and media.. They surprised political comic Bill Maher who told the Parkland kids advocating on his show " I thought you would be stupider". But no one with a teen in their family should be shocked at our advanced powers of persuasion.
The march on Washington that the Parkland teens inspired is an exciting first step. Now it's time for concrete action --- electing teen candidates into state legislatures around the country to fix a variety of problems. And if that works, send them to Congress to fix the endless stalemate there.
Consider the fact that the updated K through 12th grade model used for our education relies on group effort and team projects for every subject from Algebra to Zoology. Unlike previous generations, high schoolers today have to figure out how to work with a diverse array of ethnic sensitivities and personality types---even the kid who has been a pain in the butt since first grade has to be included and utilized to get things done. Teens surely could do better than our "all talk, no action" Congress who can't compromise on much of anything.
And our strong sense of fair play would be focused on what is best for the constituents --- replacing blind party loyalty. 16 year old Democrat, Jack Bergeson, running for Governor in Kansas, actually convinced 17 year old Republican Tyler Ruzich, whom he never met, to join the race so the voters could have a choice of competent teen candidates with different viewpoints to replace the outgoing Sam Brownback--whom they both saw as ineffective, despite his long resume.
And teens can be brave beyond belief. In 1965, African American high school students by the hundreds endured beatings, fire hoses, police dog attacks and arrest while forcibly integrating the downtown businesses in Birmingham, Alabama.
Today, we need only the courage of our convictions to fix what is broken and even that seems to be in short supply with our "age appropriate" representatives. Which brings me to Tahseen Chowdhury, a senior at my high school.
Tahseen's family is from Bangladesh and in addition to dealing with our crushing homework load, and being the head of student government, he works 20 hours a week as a web designer to help support his working class family in Queens, New York. So he was plenty steamed when his Democratic state Senator Jose Peralta, in District 13, started voting with conservative upstate Republicans from rural and prosperous areas. Chowdhury didn't think Peralta was supporting the interests of the low income, urban community that thought they were electing a progressive Democrat. An operative of our liberal mayor is challenging Peralta's re-election and now there's word that our governor might make a deal with Peralta. Chowdhury thinks another knock down, drag out between our Mayro and our Governor, who don't get along, over the candidates in hs district will take the focus off the stuff his community needs---affordable housing and health care. So, Chowdhury is running for the job--- turning 18 just before the primary. Chowdhury points out that lobbyists have no interest in courting teenagers---so he is the only candidate that won't be corrupted by special interests with deep pockets when he is a community activist sent to Albany.
I never met the guy ---there's about 3500 students at my school. But the worst thing anyone ever said about him was that he failed to get promised backpack hooks in the bathrooms. He sure can fundraise though---Chowdhury got 150 thousand dollars for the student union---and that is not weekly allowance chump change.
The pollsters are throwing shade on the teen candidates running for office in various races around the country. The pollsters say they simply can't win since they don't have enough political experience. Where have we heard that failed prediction before?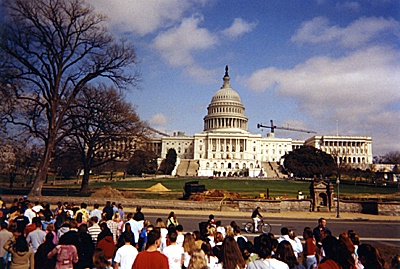 © Kayla M., St Michaels, MD