DACA and the Dreamers
January 24, 2018
Her hands tightly gripped the wheel and her body stiffened as if in that moment she had stopped breathing, and all she could focus on was getting past the police car hiding on the side of the street. Whenever my friend Marnie passes by an officer her goal is to go unnoticed; if she had one wish she'd wish for invisibility. "It's honestly the most terrifying thing. One time I was pulled over for having a broken taillight and all I could feel was my heart pounding in my throat, and my ears ringing. I remember pulling out my phone and texting my mom to tell her that I was sorry. I don't know why that was the first thing I wanted to tell her, but thank God the officer didn't ask me for my license; he just let me go. After that I sat in my car and I cried. It wasn't because I was sad, it was just because I was so scared and shocked," Marnie said after an encounter with a police officer. If this is how one person felt in that moment, I can't image the fear so many undocumented people must be feeling every single day. It seems like these days the Dreamers can't help but hold their breaths while waiting for the final result of DACA.

The Trump administration's recent decision to repeal the DACA program has left many in disbelief and confusion. Back in the summer of 2012 former president Barack Obama announced the program Deferred Action for Childhood Arrivals also known as DACA. The program allowed undocumented immigrants, under the age of 31, that came to the United States younger than 16 to live under protection from deportation for two years. The program allowed the Dreamers to obtain legal drivers licenses, work permits, jobs, and enroll in college. Although DACA was not a way to obtain citizenship or legal residency, it did help those wanting to live in this country-without fear of deportation. But since its repeal, that will change for hundreds of thousands. Immigration is a touchy subject in this country, and coming from a family of immigrants I have a strong sense of duty to defend immigrants. But the repeal of DACA looming in the near future DACA has hit closer to home than expected.
Coming from a family of immigrants I am surrounded by all types of people with different statuses in this country; some citizens, others residents, and most undocumented. I remember at some point myself feeling worried for the people around me, I was around eight at the time. As I grew up the fear of having important people taken away from me subsided, and I was distracted from it for some time, up until recently. With immigration being the hot topic these days the feeling of unease has returned, but this time I understand more than what I did before. This time the fear is perpetual, and all I can do is worry, not only for those around me, but for others who are living in the shadows for fear of deportation.

Most of my friends and I used to talk about where we'd go to college and how excited we were to all be going, but now it seems that only a handful of us will actually be able to attend. We don't bring up college anymore or dare to talk about what our futures will be like. It's a sad truth that they have had to face; that their dreams of going to college will remain dreams. I didn't realize this until one day I made the stupid decision to ask one of my friends about what he had in mind for college. Instead, he told me that not everyone could be as lucky as me to live in a country that wanted them, people like him who knew America as home were being sent back to a place they couldn't even remember. It was then that I was told that several of my friends had missed the deadline for applying, and others had only limited time before they would become unprotected by the program.

By ending DACAI have seen how much it actually affected those who were under it. Without the program, undocumented students who have worked so hard to complete high school, and get good grades are now denied the right to continue their education and make better lives for themselves and their parents, who have tried to do the same. Children brought to the US illegally shouldn't be denied these rights since it wasn't their choice to be brought here. They shouldn't be forgotten about, and left to wander aimlessly with the uncertainty of their futures.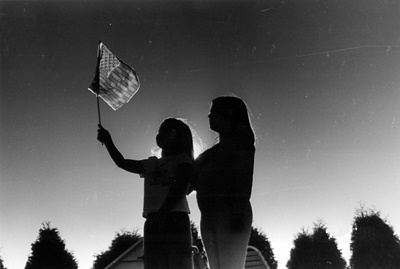 © Amanda T., Marblehead, MA