If I Were Mayor of Los Angeles
November 22, 2017
 Well, first of all, let me say, I would be proud to be mayor and lead a city like Los Angeles. To me, Los Angeles is a city that holds hopes and promises of America. It's a city where people from every corner of the earth, where people come from every part of the United States and here to make the American dream happen.  A place where new ideas are born and cultures are continuously blending and mixing together; this city has the unique ability to unite those people for a common destiny. We should all realize that Los Angeles is a city where we're everybody is participating, helping, growing and prospering together; no matter how small or nameless you are, you're voice count, to make the great city of LA safe and healthy.
However, despite all these wonders that this city has to offer, like everything in this world, even a city like Los Angeles is not perfect; the people here also have to deal with problems that plague their daily lives. In the school district, there are more kids dropping out than graduating. We also have the highest poverty rate in America, our air is heavily polluted, the traffic quality is extremely poor, we have a high homelessness rate, and third lowest homeownership rate. So does that mean everything I said about Los Angeles in the previous paragraph was a lie? Well the simple answer is no; We have the power and potential to solve these problems and if I were mayor, I would do my best to take our strengths and use them to make Los Angeles even better than before.
    
As mayor, there are many issues I will have to deal with, such as addressing the needs of schools throughout LA, health and safety, and gang and gun violence in our neighborhoods. These problems are not just community issues but a issues that can also affect the public. I know that this is not going to be a simple task and it is going to take a lot of time and effort to get things done, but I know I can handle it through baby steps.
    
I would specifically start with problems revolving around schools such as health, safety, and freedom from violence. Recently, I spoke with some students in my school Harbor Prep Academy where there's a need to have our own high school cafeteria that will offer/serve a wide variety of healthy choices for breakfast, lunch, snack and till after school at least up to 4pm.  At least the new High School building is coming but unfortunately not in our batch.  Still I like them to place multi-purpose cafeteria a place to eat at the same time conducive for learning where students' mind work where they can do homework with plenty of other mind game instore and above all bad language and bullying is strictly prohibited. There would be a parent volunteer to supervise and help when needed.   
    
To ease tension and violence in every school, diversity and tolerance have to be a part of every curriculum. We've got to promote the idea that harmony among racial and ethnic groups is key in a city like this. We need to have crisis management teams and mediation teams going into our schools when there are problems and where there are hot spots to ensure that young people have the skills, if you will, and the mechanisms to address conflict in a non-violent means. We need to have a zero tolerance for racial violence and enough police officers in our schools to not only protect the safety of young people of whatever race or ethnicity in our schools but also their safety in terms of passage to and from school.  In these, our community schools, the Board of Education urges all parents and citizens to become its partners.
    
Homelessness grew in many parts of the county; within L.A, homelessness rose in all but three city council districts that encompass parts of San Fernando Valley and the Westside. The biggest increases in the homeless population were among people 24 and younger. The biggest segment of the homeless population remained those 25-54 years old. The most common dwellings remained makeshift shelters and campers. The population of homeless veterans also rose. The issue with homelessness is truly a tricky subject to handle, as more goes into it than one might think. California's federal government has to determine how to split the money they are given to pay the programs that are meant to help us. Despite the confusion of this problem, I do believe that a good solution that I would take if I were mayor, is to launch a state wide survey asking takers what programs they believe should be prioritized the most. These surveys should be prioritized in homeless shelters and places that give out food to those with food stamps, in order for people who are suffering through this problem can have a voice. Even though it isn't full proof, I know that it's still a step in the right direction when it comes to dealing with out homelessness issue.
If I were to be mayor, I know that I would have many problems to tackle, but I also know that people out there are going to continue to struggle if I cannot do anything about it. If I were mayor, I would make sure to work hard at improve this city and the lives of its people. We have the potential to become greater than who we are right now and I want to make sure that we can do just that. I want to see families living in an affordable home, I want to see parents watch their children as they head off into a university as a freshman; and if I were given the chance to become the mayor of Los Angeles, I will fight the changes needed to help the lives of every single citizen living here.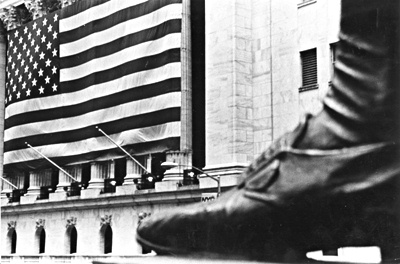 © Antoine B., New York, NY