Little Town
November 10, 2017
You turn into a small town, you drive by tractor supply with leaves in heaps spilling over onto pavement. You keep moving and see the brand new dollar tree with little kids playing with cheap plastic swords trying to hit and dodge each other. Next to it is the new planet fitness with a banner out front trying to entice people with 3 months of membership for one dollar. Notice anything about that? Well, you continue on route and see a billboard with a football graduate from the year 2014 holding a credit card with the high school mascots bulldog on it. You pass a neighborhood and see all the backyards of people, seeing all the pools and trampolines, with little kids playing in the mud, parents lounging in chairs. Further on down the road, there are several churches on either side, with abandoned parking lots and old auto shops with scrap cars rusting away in tall grass surrounding them. There's a subway with cracked pavement surrounding, tucked into a corner like a clean sock you didn't feel like picking up. You see patches of forest playing peek a boo behind, continue into the food portion of this town. First a gas station, with a donut shop a dozen feet away. Then the huge abandoned warehouse only roped off with one chain and a for sale sign beyond. Next to it is the newly opened McDonalds with Baskin Robins and a pizza place joined. Across the street let's not forget pizza hut and sonic only a few yards over and then taco bell/KFC. Across from, there is Arbys with cracking paint and tilted entry signs. Cracking, cracking, cracking, all around is cracking paint, cracking pavement, cracking walls, cracking egos, cracking facades, cracking spirits. This is a high school football town, they cram into the games to support the teenagers in drive for success. But yet, what we do in this town is either go to work or drive around trying to find something, anything to do to keep us out of boredom. We are the teens and yet all we have is grocery stores, fast food places, and a 50+-year-old horribly outdated library. And we are expected to see these places as job options. What else are we to do when the parents come in our rooms and say "it's time for you to go outside, you're always inside". When we go out with friends we have to go to the town over because our town doesn't have a bowling alley, a movie theater, petting zoo, pool, arcade or a skating ring. We used to have these things but they literally got blown away by a storm so instead of joining and rebuilding we let them fall away, like dominos. Then the teens get in trouble for branching out and doing things, tattoos, cigarettes, vaping, and tobacco.

They need a place to be, a place to thrive and make real connections because high school doesn't cut it, even with all the clubs here not everyone breaks out of their shell because they are technically still in a school club, school, not outside in a park, but inside the brightly lit hallways dripping with sarcasm and mockery. These hallways just haunt.

The abandoned warehouse by McDonald's is the perfect place to be a teen community center, we could put in an arcade, roller rink, climbing wall, we could put a pool in the back and put down grass and have a grassy play area for tag football and soccer. There are so many possibilities for that place but there it lays we can raise money if we put a cause behind it otherwise it will continue to crack. Cracking paint, cracking pavement, cracking walls, cracking egos, cracking spirits and cracking facades of this little town.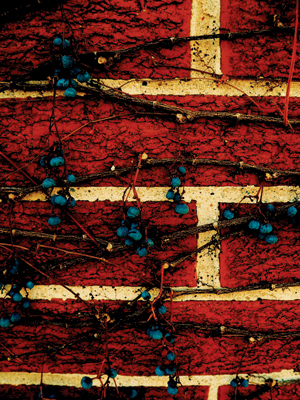 © Robyn R., Middleton, WI