Hypersensitivity
June 1, 2017
"People live daily with binders on their eyes. Once opened, perhaps then it'll be obvious that living a politically correct lifestyle will do nothing more than fill the world with mistakes," (Hypersensitivity is Taking Political Correctness Too Far). There are many opinions on hypersensitivity. Opponents believe that being politically correct is the way to properly address everyone, but proponents argue that political correctness has gone too far. I think this because people can't really speak freely without the fear of offending someone and our society has grown to be unnecessarily hypersensitive. When there are many different opinions, consider this: Has this issue with political correctness gotten too out of hand?

I think that hypersensitivity and political correctness is in the same area because they both influence the other. Throughout my research, the online sources that I have read through all imply at least one time that both political correctness and hypersensitivity tie together and depend on each other in certain cases of this social issue.
Getting more interested about the topic, I went around the school asking my fellow students of what they thought about it as well. I asked the 6 in my students in the class 6 questions. What I got from the data was that 84% of the class agreed that political correctness has got too far and 16% says yes. 16% of the students said that hypersensitivity is necessary and the rest of the class, the 84%, argues that it is not necessary. 100% of them thought that both political correctness and hypersensitivity go together. After asking some questions, it gave me more of an idea of what to look for when talking about the subject of political correctness; therefore finding different opinions as well.

Even when there are so many ways that people get offended, there are many different reactions that can affect how much hypersensitivity has gotten out of hand. I have found that seeing on the news, looking around, talking to people, and even hearing voices of other friends, it shows that most of the reactions of not being politically correct to the standards of society, there have been mostly outbursts of emotion instead of peace. Isn't that, as a human being, what we want in our society, the peace? Let the people speak freely without the fear of offending someone and labeled in society as a bully? The writer in this article, Nobody is "Shaming" You: Has Political Correctness Turned Us into a Hypersensitive Society?, has a very good statement that people should consider, "We've adopted this mindset where if we hear something that offends us, our first instinct is to gather up a crown and make a public spectacle about it." Seeing as society works, there are views that are made by looking how the people act as a whole. She goes on by backing up her statement by saying, "We've become so over the top that we're either 'too radical' for speaking out on certain occasions or censored in fear of being called out for talking about them," to show that it is hard to find a balance because of how much it has become a social issue.

Whether it is a social, political, and/or societal issue, no matter what there is to belief the political correctness has gotten out of hand. Everything is surrounded by it and there are problems with it everyday. Many people claim that being politically correct is a good thing, a good change, but is it really? It has just made people more hypersensitive that it has made "saying the right thing" influence how people think when someone unintentionally offends them by saying something normal in their eyes. Instead, when that one person said something that sounded so normal to them but offended someone else, they are all of a sudden labeled as something. A bully. And then when the next time comes around, they have to think about what they want to say, but cannot say it because they have grown to the mindset: "Will it offend?" To me it seems as a fear of hearing the truth and escalates into the speaking of the truth which has made the political correctness a problem and it has become already out of hand. Wasn't the whole purpose of being politically correct meant to keep the peace?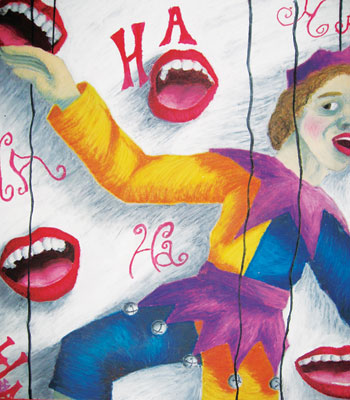 © Carollynn G., Hawthorne, NY