Benefits to Adding Calorie Numbers on Restaurant Menus
March 28, 2017
Are you hungry? How about a cheeseburger? Here are couple facts: one cheeseburger totals approximately 300 calories, which may not seem so bad, but how about if you make it a combo? That adds about an extra 400 calories to your meal. That is a total of 700 calories in one sitting. If that does not repulse you I do not know what would. Knowing the calories of the food you are consuming makes a huge impact on what you eat and can even make the choice for you, in some cases. After knowing this, you will agree that as consumers, we should know what we are putting into our bodies which is why we should be aware of these calories.

As of January 1, 2017, Canadians are moving towards living a healthier life. Now all food-service chains with 20 or more locations in Ontario are required to post the number of calories in the food and drinks they sell. So how does this affect us Canadians? Well, in my opinion it benefits all of us. We are on the track to living a healthier, happier, and better life. As quoted in the Article posted by the Toronto Sun, Eric Hoskins said "Ontario families have made it clear that they want more information and support to help them make healthier choices when dining out." This quote illustrates why including calorie counts is important and beneficial to Canadians.

For a long time, it was believed that the standard three meals per day was the ideal way to live but things have changed. It is now recommended to have a small, balanced and healthy meal every three hours. If someone were to have a 700-calorie meal in one sitting, realistically they should not have to consume any more calories for the next six hours, but no one can go without eating for six hours.

Many people do not realize how important it is to count calories. Many Canadians eat out late at night or consume a lot of calories before bed. And after dinner people usually begin to relax which means they are not burning off their food and will eventually store as fat which causes weight gain. Which is why the calorie count and meal size should be decreasing from breakfast to dinner. Many are active throughout the day, running errands, working, walking around the office or the house, or even getting some physical activity at the gym. Therefore, is it important to consume the highest number of calories during breakfast, because you burn it off throughout the day, but again, it all comes back to counting your calories which is why it is so important.

This is a good start to help us make better choices and help Canadians start or continue to live a heathy life. Having to see the calories on a menu repulses you from ordering that item and instead you choose a healthier, lower calorie option. Many people do not realize how many calories are in everyday foods. Little changes like this make a big impact in our lives. In this case the positives always outweigh the negatives.

Shockingly enough most fast food or even dine-in restaurant's have meals that have higher calories than what someone should be consuming in a day. The average caloric intake is approximately 2,000 calories. Believe it or not there are meals that contain 2,000 calories if you take into count all slides and added toppings.

Let us think about it for a second. Say you were out for a regular family dinner and you order your favourite meal. In the past you would never think about how many calories you are consuming. What if you were to go tomorrow and order the same thing and saw that your favourite meal is 800 calories. Would you still order it?
Now we will look at the big picture. The life of every Canadian is very important, and there are many unknown risks to in taking more calories than your body needs a day. The first and main risk is weight gain, which is due to the extra calories which are stored as fat, then other problems start to add on. For example, the risk of diseases like fatty liver disease, certain types of cancer and/or diabetes. In today's world, how you look on the outside has become an important factor in people's lives and weight gain can cause depression in many individuals which not only impacts that person but it impacts the people around them. But by making the calories available to all of us, it is bringing us one step closer to living a better, healthier, long lasting life.

Everyone deserves to treat themselves every once and a while. This calorie count is a guide to help people live a healthy life and guide them in the right direction. It is simply a recommendation that they have implemented to make Ontario a healthier place to live.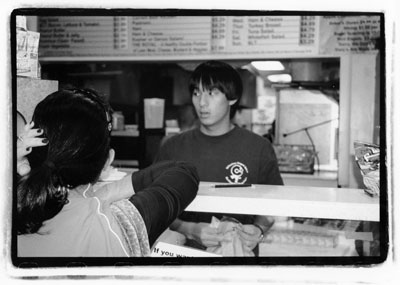 © Rachel D., Bethesda, MD