Make America Fearful Again
November 9, 2016
Dear Mr. Trump,
Please note that I did not call you president - I refuse to identify you as something you do not deserve to be. You have planted fear in millions: LGBTQ+ members, Muslims, immigrants, people of color, and those who have chosen to stand with us. This is not okay. We have people terrified to go out into the streets, placing their religion, their pride, their dignities in their back pockets and being forced to pretend to be something and someone which they are not. Do you believe this is okay?
We have immigrants here, we always have and always will. What do you think you could do differently? Build a wall? Personally eject them? No, they'll always come back, and who are we to deny them? We are America, we should be accepting of those who need the protection and opportunities we could provide, not deny them. We have families, war, and political crisis refugees, we have people who are knocking on our doors, who need help. We must open that door and do all that we can, we cannot turn out the light.

Your views on LGBTQ+ members and advocates: "gays for Trump", but I can assure you that I certainly am not. I am fifteen and openly lesbian - I will not change that for you or anyone else. My friends, complete strangers, our advocates and allies are torn. They are either encouraging us to hide to ensure our safety and protection or encouraging us to keep ourselves out there, to stay known and to let the world know that we will not go down without a fight - a big one.

Your slogan is "Make America Great Again", but how can you do that when you have millions fearing for their lives, for their futures, and for their rights. Personally, I fear for my rights and for my protection above all, and I can only assume the list of other minorities you would like to destroy feels the same.

You are disgusting, narcissistic, homophobic, racist, sexist, xenophobic - the list goes on and on. You will cause riots in the streets, unlawful killings of the minorities who you are supposed to protect. In less than 24-hours of the news being announced, you have already caused the beginnings of several hate crimes, anti-Trump riots, and pro-Trump rallies. Your followers attacking the minorities, suicide hotlines are busy, and social media is backed up with posts expressing fear not only for themselves but for others as well. You will cause war and division, and I refuse to be a part of that.

Finally, for all of you who voted for Hillary, and all of your supporters who were underaged and/or not able to vote, thank you. Thank you for your support, for your allyship, for your care and pride. We, the minorities, are forever thankful. This is not over, we cannot choose to sit in silence and suffer. We must fight for the change we so greatly desire. Keep fighting, stay strong, stay with Her.

Sincerely,
A Terrified Minority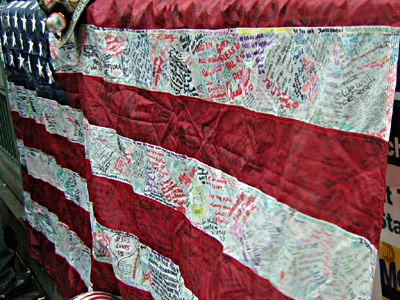 © Brittan S., Chino, CA