Sleepwalking Through History
MAG
July 21, 2016
It is a historic moment. Newt Gingrich, former speaker of the House, is presenting a passionate speech to the Republican National Convention, listing radical Islamic terrorist attacks in America. As he describes the fear that we face, which he claims to be worse than that of September 11, 2001, I realize that I am living through what will later be called a decisive moment in U.S. history. And as the GOP vice presidential nominee Mike Pence takes the stage in a few minutes, I know I'll be living, breathing, watching another moment for the books. I should be on the edge of my seat. But I'm not.
Gingrich continues, "We are sleepwalking through history as if this is all about politics." He warns about the lies of Barack Obama and Hillary Clinton. He reminds us of Benghazi, of the lives lost and the cover-ups. He reminds of us the dozens murdered in Nice, which ISIS recently took credit for. He reminds us of our children, of the next generation living in fear of the 9 percent of the Pakistani population that is considered radical. He proclaims that that 9 percent – over 16 million people – are motivated to try to hurt our nation. He talks and talks until he is red in the face, and I'm sitting at home wondering how this could be a moment that historians will contemplate for years to come.
They say the Republican Party will never be the same. Donald Trump has marched in with what some call racism, sexism, and ignorance and what others call pride, business savvy, and confidence. Either way he is making a splash, an irreversible movement that is forever morphing American conservatism. The old stereotype of a quieter GOP with old-fashioned politics was shattered with his nomination. His seemingly innovative ideas of isolationism can be called intolerance. His motions of grandeur can be called clumsiness. And yet I am not impressed by any of this unprecedented political action.
I feel as though I would be enthralled by the news if I were living through the Great Depression or World War II. I can imagine myself an enraged activist during the Vietnam War or a proud Republican witnessing the presidency of Ronald Reagan. Today, however, in what I am sure will be remembered as a dramatic political shift, I don't feel like I am living through anything significant, even though I am.
I feel hopeless. I feel like I am dreaming of a strange event that I never expected to find was my reality. I never knew I would research politics in newspapers and online to try to keep up with the circus. I find myself thanking God that I am not old enough to have the democratic responsibility to vote – and yes, I do consider it a duty of American citizens. I don't know what I would do if I were 18 and a registered voter. I can't in good conscience support either mainstream candidate, and it has caused me to reconsider the entire bipartisan system in our country.
In fact, this election has led me to rethink everything I know about the political system: the rhetoric, the electoral college, the propaganda, the requirements. I feel like I am being entertained rather than educated, like we are voting for the biggest smooth-talker, the most high-risk player, the shmoozer who wins over the people of Ohio, Nevada, Florida, and Utah. In this generation of instant gratification, we want a president to show us a good time, right? We demand short-term solutions to long-term problems, someone to skip all the hard work and make us happy today, even at the risk of our precious futures. I'm tired of politics being sung to me like a show tune.
Hearing the "USA!" chant break out over ten times on day three of the RNC, I don't feel ready to jump in. I don't feel inspired or proud of my country. I feel scared and confused. If this is history, why do I feel hopeless to stop it? Why do I feel like it washes over me, slowly taking away a molecule of my dignity at a time?
I am not excited to be a part of this historic moment. I am not hopeful. I am not happy. I feel that we are taking steps back in racial unity, in support of our police, in education. What are we becoming?
Neither of these candidates will cause the demolition of American democracy; they both have their merits. I do not blame Donald Trump or Hillary Clinton for our current state of affairs or for my fear. I couldn't possibly blame one person or group of people. I am part of the problem. After all, what have I done to fix this? What have any of us done?
And so, another historic moment is passing me by.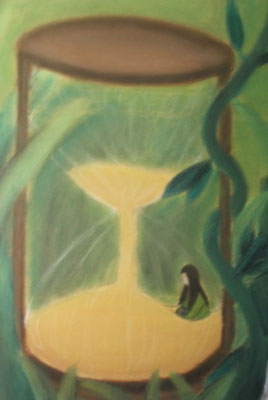 © Carollynn G., Hawthorne, NY