Why? Now that's a question to ask
June 10, 2013
A dog bite is never a positive experience for a person. These bites can hurt cause disease, and even worse, death. However, the dogs are usually not the ones to blame. This writer will be discussing the three reasons why dogs bite and covering the important question, "Should the state execute dogs that have bitten someone?"
The first reason why dogs bite people, are the way they have been treated and raised. Dogs that are left unattended are most likely to do things they are not capable of doing. If an owner trains there dog poorly, or socialized too much they will bite more often. Dogs that have been abused physically, mentally, and not being fed/water can cause them to be aggressive towards people. Other cases where dogs have been missed treated, would be when an owner over works a dog physically, mentally, emotionally (campbell).
The second reason why dogs bite people is because they could be defending something or someone. When you take a dog's food or water away from them it could trigger an emotion inside the dog to make them attack. Mother dogs that have just delivered puppies can get very aggressive towards people in many ways. One way is if you pick the puppies up, mother dogs are very protective when it comes to their young, they automatically assume you are either trying to hurt them or take them away. Sometimes when a dog hears someone yelling or trying to hurt their owner they automatically defend the person by attacking, that's the only way they think of doing things (campbell).
The third reason why dogs bite people, are the way they have been treated as a puppy and as they are growing. If a dog has been abused, they start to fear, get anxiety, and feel pain. So when someone tries to pet a dog or go near it, their reaction is going to be defending their selves, from what they think is abuse. Another reason why a dog will bite someone is if they are protecting their valuables such as their toys, their owners, or their owner's things (campbell).
To answer the question above, my honest opinion would be no. Why is that you ask? Dogs are like humans in many ways, they see what we see, they feel what we feel, and they have a heart like we do. Dogs have their own ways to express how they feel, just like we do. The way they do things might not seem right but the way we do things isn't always right either. So now the question is, so do you think the state should execute dogs that have bitten people?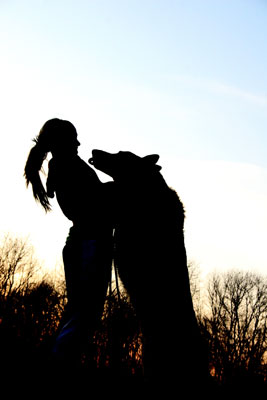 © Brittany U., Terra Alta, WV