We Still CAN !
September 21, 2012
"I know I can be what I want to be, if I work hard at it I'll be where I want to be...." -Nas. As I follow along wwith historical re-election campaign of our great President Barack Obama these lyrics are refreshed in my mind. Obama embodies the idea of "underdogs" excelling in modern America. Being that Obama is the first president of color to hold office in the U.S he knows the role of "underdog" too well. As a child Barack was raised by a single mother and grandparent after the death of his "in & out" father. Obama has written and spoken about his use of alcohol , marijuana, and cocaine in his younger days. Never once has Barack painted that white collar "goodie two-shoe" image like many of his running-mates. "without struggle there's no progress" -Frederick Douglass. Obama is no stranger to struggle, nor is he a stranger to progress. Obama attended Columbia University and The Harvard School of Law. Later on Obama went on to serve on the Illinois Senate, now he serves as President of the United States Talk about success! Obama is working very hard to make very necessary changes to our country. These changes cannot be made in one presidential term. He supports issues like tax rates, education and scholarships, health care,and gay marriage .Wwith closing Obama's first term in office drawing near it is important that we vote and encourage others to do so as well. Voting for Obama could be good for your health !

Obama is working tremendously hard to implement "Obamacare". Obamacare is formally known as The Patient Protection and Affordable Care Act. The Affordable Care Act requires that insurance plans cover preventative services and stops insurance companies form dropping you when you are sick as well as offering a number of other reforms and protections. Obama is on our side. Obama wants to ensure wellness around America. Many Americans are unable to afford expensive health insurance plans. Candidates like Mitt Romney are opposed to such plans. The Patient Protection and Affordable Care Act has been in place since 2010. This plans has helped many who otherwise would have no alternative. Obama has plenty of other ideas for the betterment of America all he needs is time. In this day and age times are changing , Obama understands. He supports gays.

Barack Obama stands behind our constitutional morals which read, America is the land of the free and just for all, not just for all heterosexuals. Barack Obama is making it very clear that he agrees and supports gay marriage. He feels as if every human being should have the right to make their own personal decisions here in the United States, compared to his popular running mate Mitt Romney who stated "I believe marriage is a relationship between a woman and a man". Should we elect a president who will lead America by his own beliefs or one who realizes that all citizens have beliefs of their own? You decide. Obama is focused on the important things.

Schooling and education is vital for the future success of The U.S, and Obama knows it. Since being in office Barack Obama has granted over 330 million dollars in scholarship and grant money. He also is working to pass a bill that promises to offer public schools healthy competition, and he has delivered on that promise by providing some competitive grant money to states that start up charter schools. Obama hedged his bets on the American Opportunity Tax Credit, a refundable credit ensuring that the first $4,000 of a college education is free for most Americans. He also planned to get aid money by using public instead of privately funded loan providers. Obama made good on these promises, and the results seem to be positive, especially for low-income students trying to get a college education. Obama actually cares and is in touch with modern America. After a two wars and a great financial crisis more and more Americans find that they are having to hold onto their wallets for dear life.

President Obama is an advocate of a progressive tax system that ensures an affordable level of taxation for every income bracket. As an example, he cites the case of how his own tax rate is lower than others who make substantially less than him - including his personal secretary. He believes that the current tax code has benefited the wealthy at the expense of the average Americans. Just another example of how Obama supports the "underdogs". We've come to far to turn back now, we need to keep Obama in office.

Wwith Presidential election of 2014 drawing near it is necessary that every American get out and vote, our money depends on it , our education depends on it, our rights depend on it, and more importantly our future depends on it. With Barack in office for a second term we will see the after effects of everything he has been working so hard for , for the past four years. For once we have a president who understands, who cares, not a self-proclaimed perfect citizen, but something real. Place your votes with Obama, you won't regret it.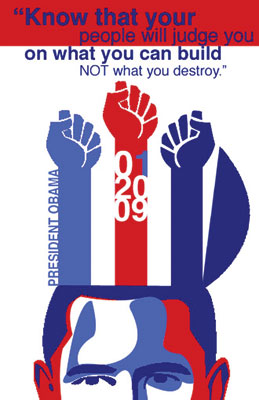 © Brennan W., West Linn, OR