Safety is a word?
June 7, 2012
Safety?

That's a word?

Rather instead a twisting sting of syllables ever confusing itself with "danger". The letters aren't even the same how could it be real? The words of explanation written plain across every mother's crying face when there is the death of a child, once again. One kidnapped by a friendly stranger seeking companionship. Something which should be an ad on craigslist rather than engraved upon a tombstone. People, with eyes more full of deceit and illicit love than life itself, their hands twitching with need as children and others walk by. Every neighbor, every friend and you ask me once again if I believe in "safety"?

I'd say to read the newspaper for my answer, they never really say just how many die a day. Printings running off the page and newscast much too long if truth were the case. Swept under the rug like a bad childhood memory, things like this aren't reported any more. In between printed lines, one might just find the story of the teenager down the street. One died of drugs, inner city poison and suicide, unable to escape the world of today. The words of safety come again from your lips, expecting me to pretend not to cower each school day from the bullies and fear. If you wish to believe in this childish concept, walk down your street.

See the fences of white, little picket lines dividing the world into boxes, safety nets where nothing will happen? Not even the beatings the little boys receive every night from drunken bottle drinkers? The bruises aren't reported by oblivious, frighten teachers. The windows where the light shines so bright, you'd think it would be a happy place, hope to your friendly word. However there are no cameras there like in 1984, you can't see everything inside, never knowing what is truly going on. Yet again you say we are safe and that there is nothing wrong.

Maybe if you had those cameras you might really see...this world of oblivious pretend resting in your peripheral vision. Read the scars across my face, an open book if you'd just look, and then tell me you believe in "safety" .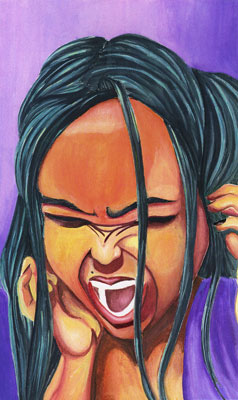 © Kriztille J., Briarwood, NY