Egypt: The Growing Threat
May 27, 2012
A year after Mubarak's resignation, Egypt attempts to prove their sovereignty and power as a nation with control. The most recent incident is the detention of 43 international passengers, 19 of which are Americans. One detainee is the son of U.S. Transportation Secretary, Sam LaHood, who is also the director of the International Republican Institute. Other detainees include directors of National Democratic Institutes and members of the Freedom House – all non-governmental organizations (NGOs) that have worked actively in Egypt for several years and have publically known funding and goals. Acting under the false pretense that NGOs were at fault for the instability of the Egyptian state, authorities have charged the detainees with the illegal support and foreign funding of their human rights and pro-democracy organizations without Egyptian permission. This type of crime typically takes a year to get to court and could have a consequence of up to five years in prison. The detainees have claimed to have not done anything wrong and were shocked to discover their names on a "no-fly" list. Thankfully, fourteen Americans have been released and the only five left are those in senior positions at NGOs (and the remaining 38 non-American detainees). However, those who remain are seeking refuge at the U.S. Embassy in Cairo, where arrests are unauthorized since it is considered to be American soil.

And so the burning question arises, what does the U.S. do now? The Obama Administration has deemed it of "deep concern" and claims to be doing all that is possible to return the detainees home quickly. The only conflicting problem is the Egyptian government's self-proclaimed lack of control over judiciary decisions. Mohammed Amr, the Egyptian Cabinet Minister, confirms this, leaving America stuck between a rock and a hard place.
These contemptible circumstances do not reflect well on Egypt's transitioning government in the aftermath of Hosni Mubarak's resignation. In fact, this has been the last of a string of Egyptian anti-foreign acts in the last months. Starting in December 2011, raids on 17 NGOs strained U.S. – Egyptian relations. Egypt must know that holding 5 American aid-workers is not going to help the relationship, so they must have intended to fire up the U.S. Several Egyptian officers in Washington this past week were all called back to Cairo under suspicious circumstances. In fact, Egypt never took any initial negotiation steps before blocking detainee travel; they simply acted on some invisible trigger. It seems the sole reason Egypt would muddle the already strained relationship with the U.S. is to prove its sovereignty. Unfortunately, this may place the detainees in more imminent danger than originally thought.
If the situation continues as is, the U.S. will push for severe cuts or complete elimination of the $1.3 billion of annual aid to Egypt – the most foreign aid any country in the world receives. Thus, we must think of ties with Egypt as irreversible. Coincidentally, the military regime, which is responsible for the detention, is due to step down in June and may be exerting the strength necessary to remain in power. Unfortunately, this combination is toxic to America and Egypt alike, since they will both be losing a strong ally.

According to John McCain, a senator in Arizona, and Heba Morayef, the director of Human Rights Watch in Cairo, Egypt should be dropped from all aid packages and experience what it really feels like to be a sovereign nation, responsible for your own actions and accepting no aid. This may be the only way for Egypt to appreciate U.S. – Egyptian relations. America cannot constantly replenish an anti-foreign nation, nor can it be expected to reconcile with a country that dismisses the U.S., their strongest ally and greatest provider, with new rule. Now it is in the hands of Congress to decide which is more important – returning those who have been detained and ignoring Egypt's actions, or giving Egypt just what they want and let them struggle in the fight for prosperous sovereignty.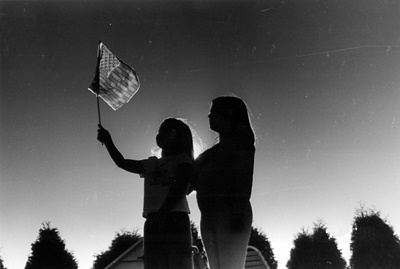 © Amanda T., Marblehead, MA