A Failure
May 20, 2012
"As far as we are concerned, we Syria have not changed," said President Bashar al-Assad. If Syrian President Bashar al-Assad realizes that what Syria is today is nothing better than what Syria was several years ago, then why doesn't he do anything about it? If he fails to do anything to help his country, why is he still president? President Bashar al-Assad of Syria should step down, as his attempts to solve the problems of Syria prove to be pointless. For many years, Syrians had to face the wrath of Bashar al-Assad, and they still continue to do so. Syrians face unequal and unfair treatment in Syria, because of the poor leadership and corrupt government. There have always been one-party elections, assassinations of human rights activists, unequal right for women and ethnic minorities, and much more. It has been 11 years since President Bashar al-Assad "attempted" to eliminate this unfair treatment, and there has been no progress. The most logical and understandable solution to this problem is forcing President Bashar al-Assad to step down.

Recently, there has been some debate in the U.N. as to whether or not President Bashar al-Assad should step down; however the bill did not pass. The UN countries involved in the meeting were to either pass the agreement or object to the agreement. Some of the U.N. member nations felt strongly about President Bashar al-Assad stepping down (most of them including the U.S. and U.K) while other countries such as Russia and China did not like the idea, so President Bashar al-Assad remains in power in Syria. China and Russia's "excuse" for not passing the agreement was that "it is Syria's problem to fix." If people hope for a better world, then they must agree to intervene in other countries personal problems, to aid them and reestablish the human rights that have been violated. Every human is born with rights as a human, as explained in the Declaration of Human Rights created by the UN.

The future of Syria is in trouble, too. Assad is targeting younger people, including children, and women, as well. Why? Because children and women are vulnerable, they are easier targets for an attack. Assad blames the attacks on terrorists, but he is the real mastermind behind all these assassinations. But why does Assad want to kill his own people? Killing people might discourage the rebels, and they might quit, as they find out that their family's lives are jeopardized. However that just makes them angrier, and more subject to the cause. Amongst all this fighting and problems, children do not get an education, especially females. There have been several organizations to help bring books and supplies to Syria, but if there are "terrorists" in school, then why should they risk the lives of their children. Thus children do not attend school despite all the efforts to give them an education. Countries must take better steps in resolving the many issues of Syria in order for peace to be maintained in the Middle East.

If the UN bill passed and President Bashar al-Assad stepped down, then not only Syria, but other countries of the Middle East would have undergone changes as well. As what happened with Tunisia, Egypt, and Libya, the country will be rightly controlled by the people, with the peoples consent. Many countries are trying to revolt, for example Jordan, Saudi Arabia, and many other countries like Syria. Those countries' governments stop the revolting by killing the activists or by threatening them, which is why the fights there are at a standstill.

Syria has the potential to be a great country, economically as well. Before the rebellions, Syria's economy was booming and the unemployment rates were very low, the economy was emerging and growing about 35% more every year. Agriculture, oil and tourism were major part of the economy. Ever since the laborers in Syria went on strike, and started the rebellion, tourism vanished, oil prices became higher, and not many people did their jobs. If Bashar al-Assad was fair and equal in giving rights, he could have been loved by his people. Al-Assad had everything he could need, money, wealth, and prosperity. If he was nice and kind to his people, then he could have continued to have these things with the peoples love, and he would not have to deal with this unrest, his greed for wealth led him to make poor decisions. Now he must pay for what he has done, and must face the consequences.

Syrian uprisings have been happening since early March, 2011. The state of Syria is going to get worse than it is now, which is hard to imagine. When the Egyptians, Tunisians and Libyans protested against their president, they got what they wanted in less than a year. It is time for the Syrian president to step down, and realize that his selfish motives are harming people. 8,500 to 11,000 people have already been killed in Syria opposed to the 840 Egyptians dead during the Egyptian revolution. What's the difference? Former Egyptian President Mubarak knew when to quit, but when will President Bashar al-Assad realize that his time has come?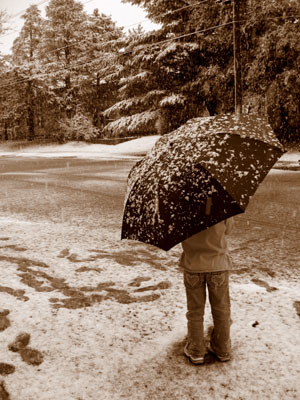 © Hui Y., Potsdam, NY