Morality vs. Legality and Connections to the Westboro Baptist Church
May 24, 2012
For the past twenty years, a group called Westboro Baptist Church has picketed multiple events and establishments across the country. This group was brought to the Supreme Court where they ruled that the picketing could not be legally stopped because it is a violation of the members' first amendments. This was and still is a huge controversy of the law against moral rights and respect. One of the best examples for this would be the picketing of funerals. Currently this group still pickets events such as funerals, churches, and the gay community in general. The public frowns upon their activities, but nothing can be done legally to permanently stop the protests.

The Westboro Baptist Church is based in Topeka, Kansas and it had its first public service in 1955. The founder of the Westboro Baptist Church is Fred Phelps and most of the church is composed of his 13 children, 54 grandchildren, and 7 great grand children. They consider their church as an "Old School" Baptist Church (About WBC). Westboro Baptist Church has engaged in picketing across America and some foreign countries since 1991 (Brief Bio of Pastor Fred Philips). Countries that they have protested in include Canada, Jordan, and Iraq (A History of Anti-Gay Hatred). Recently Westboro Baptist Church has mainly protested soldiers' funerals, but before that, they were known for picketing the funerals of gay people or people who they thought may be gay. In 1998, Westboro Baptist Church spread a reaction of anger across the nation when they picketed the funeral of Matthew Shepard. Shepard was a gay murder victim and during his funeral, they held up signs saying "No Fags in Heaven" and "God Hates fags" (A History of Anti-Gay). Over the years, Westboro Baptist church has targeted many groups and organization such as schools or other groups that are accepting of homosexuality; Catholic, Lutheran, and other Christian denominations that they feel are heretical; funerals of people who had been murdered or killed in an accident such as a plane crash. In 2005, they began targeting the funerals of soldiers who were killed in Iraq or Afghanistan. The group seems to change victims very often and believes that almost all Americans and American organization are "sinful", so just about anyone could be targeted next (About WBC). Members of the Westboro Baptist Church once stated, "God's hatred is one of his holy attributes." They then stated that their picketing is a form of preaching to a "doomed" country that is unable to hear their message any other way (About WBC). Westboro Baptist Church made their way to Canada in August 2008. The Canadian authorities attempted to stop from entering the country them multiple times, but members stated that they were able to dodge Canadian border patrol agents. While in Canada Westboro Baptist Church, members protested the funeral of a young man who was gruesomely murdered on a Greyhound Bus. The murder was so brutal that it made national news in Canada (About WBC). Since April 2009, Westboro Baptist Church has set their sights on Jewish institutions across the country. They have protested at Israeli consulates, synagogues, and Jewish community centers. In addition, Westboro Baptist Church has openly stated their thoughts on President Barak Obama, which were that he is the Anti-Christ (About WBC). One comment they made was that Pope Benedict XVI is a false prophet and is in an unholy trinity with President Obama and Satan (Unholy Trinity).

Many things have happened to attempt to stop or prevent picketing by Westboro Baptist Church. A group of dedicated citizens demonstrated how to prevent Westboro Baptist Church members from picketing in Brandon, Mississippi. A local hero, Staff Sergeant Jason Rogers, had died in Afghanistan and some of the Church members had heard about his funeral. A few days before the funeral one of the protesters was beaten by some people at a Brandon gas station after running his mouth about why he was there and what he intended to do. When police arrived, the man could not give them a good description of who had beaten him, and when people crowding the area were questioned, none could remember what had happened. On the day of the funeral, which was April 14, most protesters did not even make it out of their hotel parking lot because some of the locals' trucks had been parked directly behind all of the cars with Kansas license plates, so that they could not pull out; and the driver could not be found until the funeral was over. The protestors called the police to come move the trucks, but the tow truck had been running behind and would not be able to help them for a number of hours. Therefore, they were stuck in their hotel. A small group of protestors made it to the funeral, but the police took them away to be questioned about a crime that was believed to be committed by them. Once the questioning was done, a few hours later, they found that the members had nothing to do with the crime so they were to go (Brandon Mississippi kicks some Westboro Baptist Church Protestor butt). In addition to acts like this one, laws were also passed to limit where protestors could protest. A shooting occurred in Tucson, Arizona, which was intended to kill Representative Gabrielle Giffords. In the shooting six people were killed, among them was 9 year-old Christina Green. Word got out that protesters from Westboro Baptist Church were planning to picket Green's funeral. Once this news got to Arizona governor, Jan Brewer, she immediately signed an emergency legislation that bars protesters within 300 feet of a funeral and within an hour from its beginning or end. Brewer commented on the protestors saying, "Such despicable acts of emotional terrorism will not be tolerated in the state of Arizona." When she signed the bill she said, "This legislation will assure that the victims of Saturday's tragic shooting in Tucson will be laid at rest in peace with the full dignity and respect that they deserve." Within hours of Westboro Baptist Church's announcement Facebook groups began to make plans to surround the funerals that would keep the church members away from the mourners (Arizona enacts funeral protest legislation). In Springfield Governor Rod R. Blagojevich signed Senate Bill 1144, the "Let Them Rest in Peace Act". This act requires protestors to stay at least 200 feet away from family and friends as they mourn soldiers who had died (For Immediate Release).

The Westboro Baptist Church is not affiliated to the Baptist Church, in fact they have often protested against the Baptist religion. Westboro Baptist Church is seen as a sect of the Baptist Church. With this stated there are still some connections between Westboro Baptist Church's actions and actions taken not too long ago by the Southern Baptist Convention. The Southern Baptist Convention was organized in 1845 in Augusta, Georgia since then it has grown to over 16 million members. This group includes over 42,000 churches in the United States. The Convention supports about 5,000 home missionaries in the Unites States, Canada, Guam and the Caribbean. They also support more than 5,000 foreign missionaries in 153 nations. The term "Southern Baptist Convention" refers to the denomination and its annual meeting. The group works through 1,200 local associations and 41 state conventions (About the Southern Baptist Convention). June 11, 1997 Southern Baptist Convention leaders voted to boycott Walt Disney Corporation and its subsidiaries for what they called Disney's antichristian and antifamily direction. The boycott includes Disney's movies, theme parks, and television program ABC. Many Southern Baptists are angry at Disney's policy, which now provides health benefits to same-sex partners, Gay Days at Disney theme parks, and the release of by Disney and its subsidiaries of controversial books and films like Pulp Fiction and Kids. Disney officials had nothing more to say other than that they were not ashamed of what they had done. A representative for the Convention said that having Ellen Degeneres say she is a lesbian on ABC's Ellen was a major affront to the Southern Baptists (Southern Baptists Vote for Disney's Boycott). The denomination had five major complaints that they wanted the Disney Corporation to fix they were "Establishing of an employee policy which accepts and embraces homosexual relationships for the purpose of insurance benefits", "Hosting homosexual and lesbian theme nights at its parks", "Choosing a convicted child molester to direct the Disney movie Powder through its subsidiary Miramax Productions", "Publishing of a book aimed at teenage homosexuals entitled Growing Up Gay: From Left Out to Coming Out through its subsidiary Hyperion, connecting Disney to the promotion of the homosexual agenda", and "Producing, through its subsidiary corporations, objectionable materials such as the film Priest which disparages Christians values and depicts Christian leaders as morally defective"(Southern Baptists Boycott of Disney). These claims are considered invalid due to the lack of information and they misinform the people. The first claim is not valid because Disney was one of the last film companies to provide homosexual partners with health benefits, yet only the Southern Baptists targeted them. Their second claim is invalid because the theme parks had theme days not nights and they were sponsored by homosexual organizations not Disney. Many organizations can sponsor Disney theme days. For the third claim, Disney did not knowingly pick a convicted child molester to direct Powder. Victor Salva's convection was not known about until after the movie was made. He had also served his time and was supposedly rehabilitated. The fourth claim the book was not directed at homosexual teenagers it was directed to adults. The final claim is the most incorrect because it was not made by Disney it was made by Miramax an autonomous group (Southern Baptist vote for Disney's Boycott) did not make the movie. On June 22, 2005, the Southern Baptist Convention voted to end their eight-year protest against Disney. Yet they still warned Disney that they were keeping an eye on the corporation. Disney only said that they never changed any of their policies in response to the Southern Baptists protests (Southern Baptists End Disney's Boycott). This protest that the Southern Baptists had against the Disney Corporation's homosexual health policies are very similar to the current acts against homosexuals nationwide by the Westboro Baptist Church.

Marine Lance Cpl. Matthew Snyder was killed in Iraq his funeral was in Westminster, Md. Thousand came to pay their respects, but with them came Reverend Fred Phillips and six other members of the Westboro Baptist Church. The picketers did not think that Snyder was gay, but their message was "the whole country is given over to sodomy and to sodomite enables." The protesters followed their normal steps informing the police before they arrived and stood 1,000 feet away from the church on public property. They held signs that said "Thank God for Dead Soldiers," "Fags Doom Nations," and "America is Doomed." Albert Snyder, the father of the dead Marine, had not seen the sign until after the funeral on the TV coverage. He said the picketers turned the funeral into a circus and had taken away his last moments with his son. "This was a funeral. This was not a parade going down the street. I shouldn't have to look away from anything at my own child's funeral," Snyder said, "that's absurd!" Albert Snyder then sued Fred Phelps and his Church for intentional infliction of emotional distress. "These people targeted me and my family, and they have done this to over 200 other military men and women's families," Snyder says. "I want to know how you would feel if somebody stood 30 feet away from the main vehicle entrance of a church where you're trying to bury your mother, with a sign that says, 'Thank God for dead s***s.' You tell me that should not be illegal. Is fag any worse than s***?" In Court, the Jury agreed with Snyder and awarded him five million dollars, but the Supreme Court dismissed the verdict. On March 2, 2011, the Supreme Court ruled in favor of Westboro Baptist Church eight to one. The Chief Justice John Roberts stated that the Church's signs even though might offend some people they are not directed towards any individual person. With that, the Westboro Baptist Church is protected by the first amendment (High Court Rules for Anti-Gay Protesters at Funerals). The first amendment states "Congress shall make no law respecting an establishment of religion, or prohibiting the free exercise thereof; or abridging the freedom of speech, or of the press; or the right of the people peaceably to assemble, and to petition the Government for a redress of grievances" (US Constitution-Amendment 1). Westboro Baptist Church had won the legal battle, but their actions still are seen as morally indecent.

This Supreme Court case was very controversial because a majority of society completely disagreed with the decision of the Supreme Court Justices. A majority of people see the Westboro Baptist Church organization as an abomination and that the members are still allowed to protest even though they discriminate a wide number of groups and organization. The main reason the organization won the case was because they were protected by the first amendment, but also that their signs protesting funerals and other organizations never were aimed at a single person, which is what the court case was about. After the verdict was released Margie Phelps, attorney to Westboro Baptist Church and daughter of Fred Phelps, was interviewed on Fox News. There she stated "Our team's reaction is thank God, and praise his name. Our secondary reaction is nothing has changed except this. This case put a megaphone to the mouth of this little church" (Westboro Baptist Church Leader Talks Supreme Court Ruling). Westboro Baptist Church's original argument in the first case against Albert Snyder was that they go to the funerals of soldiers for the news cameras and publicity to spread their word to the nation about how the United States is a nation of sin (High Court Rules for Anti-Gay Protesters at Funerals). The Supreme Court verdict also stirred up families that have lost members that were soldiers whose funerals were picketed. It angered them that their nation's laws protect evil people such as these and allows them to continue their outrageous acts.

In conclusion even though legality defeated morality in the situation of the Westboro Baptist Church organization, it does not make their acts right, decent or civilized. No matter what the Supreme Court decided, in a majority our nation believes what the Westboro Baptist Church organization is wrong. Westboro Baptist Church's hatred has no bounds they discriminate against many groups and organizations, whether they be a religion, business, person of importance or even a funeral. Again even though the public completely disagrees with the acts of the Westboro Baptist Church, nothing can be done because of the recent Supreme Court ruling.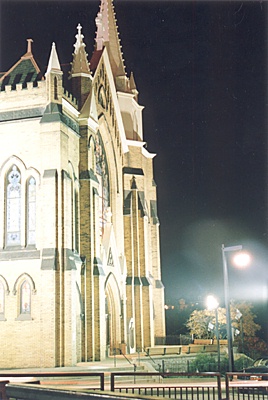 © Dena G., Pittsburgh, PA