The Flaws of Barrack Obama
October 12, 2011
There have been many great presidents. From George Washington to Abraham Lincoln, presidents have been the core of our country. They have always been there for us in times of need, making decisions that they thought would improve our country. That all changed when Mr. Obama got elected. Now, with the 2012 election just around the corner, our country is on the verge of electing this mediocre con-man to yet another term as the president of this great country, the country that we call home. We, as citizens of the United States, should not sit around as this so-called politician ruins our country. We should not elect this monstrosity to another term.

There are many reasons why we should not elect Obama. For starters, Obama does not tell the truth. He told people in his election campaign that he would pull our troops out of the Middle East, but what does he do? He puts even more troops into battle. He then tells the Republican's that he had reached a compromise with them over a bill, but then what does he do? He changes his mind over night and wants to add millions of dollars in tax cuts. As you can see, Mr. Obama does not keep his promises.

Another reason why we should not re-elect this idiotic scoundrel is the most obvious of all: his obnoxiously large head. He talks big about all the things he's planning to do, all the debt that he is going to pay off, all the jobs he's going to create, but does he deliver? The answer is a resounding no. If Obama could deliver what he talked about delivering, we wouldn't be on the verge of another depression. Our Stock Market would be up and running, and there would be so many jobs it would be hard not to get hired! It is obvious that Obama talks big and delivers small.

Yet another reason why Obama should not get reelected is because of his failure to reconstruct our failing economy. He promised he would try his best to protect our crumbling economy from falling apart completely. He did not deliver on that promise. The stock market is failing. There are less jobs than in even the Great Depression. Our country is crumbling around us, and he just turns a blind eye to our pain, our suffering. This *ahem* "Obamanation" should be out there helping his country, his people. Instead, he sits around Martha's Vineyard, wallowing in the fame and glory of being the president of this great country. He should not be allowed to do this. He does not deserve to be the president of a country that is as great as America. He does not deserve to be in the same shoes as our past presidents. He does not deserve the respect of the people of America. As you can see, this appalling figure should not run our country and continue to ruin our economy.

The last reason is a simple one. He ran based on his race. What kind of sick-minded man would use his race to win an election. If he would have lost, we would have heard about it. The Democrats would be shouting racism through the streets. When he won, the Democrats were strangely silent, not offering up a comment besides "He won. he won!" and "I told you so!" Well you know what Democrats? "I told you so has," a brother. It's called "Shut the hell up!" Any man who would use his race to win an election has permanently lost my respect. It is apparent that Obama is a slimeball, by the highest standards.

All in all, Obama does not deserve to be the president of this country. I urge you to not elect this man in 2012.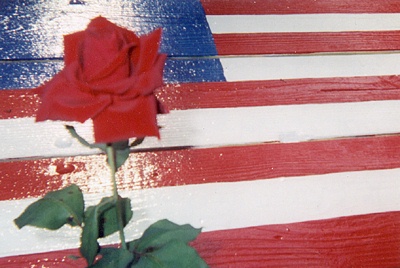 © Elizabeth H., Gulfport, MS