War--To Be, Or Not To Be?
July 27, 2011
There is no avoiding war; it can only be postponed to the advantage of others.
--Niccolo Machiavelli

These days, war is the topic of many conversations. Is it needed? Is it cruel to send out loved ones out there to fight? Is War simply to awful for us to comprehend?
I know these questions, among many others, are on most of the Nation's minds. I know they think about how awful it is, for somebody to be fighting another Man's war. For other's to be out there putting their own life's on the line. How it is not needed, that it is easier for us to come to a common peace-agreement and come to a compromise. Something besides using weapons and hands, maimed to kill.
But first, I want to paint a picture in your mind. I want you to imagine what I'm saying, if there was say, no war at all.
The World happens to be a good place. There is no fighting. No more troops are being sent out to Iraq. But meanwhile, there are hidden thoughts in everyones minds. Everyone…while they appear not to be, they are hiding thoughts of resentment.
Everyone hates each other as much as they did while they were at War with one another. The only difference is that they don't use guns, but words. And actions.
How would it be any different to think, or say something, then to maim them with the means of Fire-Arms?
Ending War, doesn't end war. It only puts it on some sort of stop. Stopping it to where others can't feel, can't say, can't do….but can think.
To have war, is to show others that you fight for your freedom. You fight for what's right in the name of liberty and justice. You do what's right for your Country. For yourself.
If you don't fight, to show what's right, then what do you have, besides the opinion on the whole matter?
Peace. It's another topic that is built around war. Some think that to get peace, you have to fight it out, and have the knowledge that nobody is going to harm anyone else. That nobody else is going to get hurt.
But this doesn't seem to be a taken matter does it? Even if we have War, other's still aren't completely at bay. Sure, they are stopped. That's the point. And people want to end this. But yet, people still invade our Country's. We still have bombings. How bad do you think it would be if we didn't have War at all?
As long as two minds exist on this Earth, there will be a conflict. Always. With two different opinions, or even thousands of opinions, everyone is going to think different things. No two people are going to think the same things.
By ending war, it doesn't end lives. But despite what most think, it doesn't end conflict.
Opinion's can be held as deadly as a M16. They can be fired as deadly, and they can be sent out to kill. Just like bombs and guns.
Which is why when War is ended, there is no end from War. Not entirely. People can still hold discussion's about the topic. They can still fight with words. The World is not entirely free. And to pretend different, is to be seeing things, and facing things that you don't want to see. So open your eyes.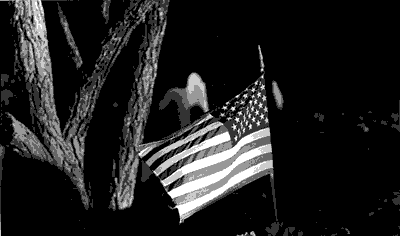 © Kimberly R., Marblehead, MA