Memorial Day
May 27, 2011
Memorial Day means a lot to my family and to many families around our great, free nation. But, do we all think of our troops everyday who fought for our freedom? Do we all say the pledge or do we just mumble through it to get the day started? Do we even think of anyone when the pledge is said? I know I do. My father is one who had retired from the Air Force. But is still fighting an even bigger war with the bees stings of bad memories in his mind. And my great-grand father, he fought in World War II and is now deceased. Memorial Day is the one day of the year we think of who had died fighting for this great nation we call America and those still fighting at this moment, those who have fought, those still at war with themselves and the families who had been patiently awaiting their return or the ones suffering the pain of their loved ones death or those families who are mourning the death of who their loved one was before. The painful stinging memories never leave. They become a part of them. A war with these memories everyday.

Freedom does not come free. Our brothers and sisters, husbands and wives, dads and moms, friends, and many more who willingly risked everything. Memorial Day we remember these great troops, fallen and those who have fought, fought for us, our freedom. My dad, Billy Lefebvre, always told me that America is the "Big Brother Country", he said that this meant that we would fight for those who can't, like we are there voice. We are the "big brother" trying to protect the weaker, so we can help them get stronger. We have helped so many who have less than us. We criticize our government and say how war never solves anything while our troops see the innocent tortured and killed by their own people and they remember why they are fighting. Our troops are the most caring and the most unselfish. They always are thinking of everyone else but themselves. This why we think of them, honor them. They are the people that should praised. They form this country.

Memorial Day, everyone has their own meaning of this day. But to me, it is thinking about every soldier, remembering what they do for us everyday and have done for us. We also must think about all that they have endured and how that has affected them. The war affected, for example, my father. He had spent thirty years in the Air Force which has affected him every day since he came back in 2006. We had not met him until 2008 and he seemed okay but as time went on he got worse.

Father may be okay now, but he is still broken. The bees still swarm, but they are quieter, calmer. Then so is Daddy. The daddy we love has come back. But the broken father is still there, trying to heal. I hear jokes about the war and some make fun of men like my dad, ones with PTSD and many other things while my dad and many others hear the guns fire, the bombs, and the screams of the wounded in their heads. That's one reason we must remember. Think of our troops who have suffered through so much.

We should really stop and remember, stop and thank our troops. We stay up only 16 hours, they for days on end. We take warm showers to help us wake up, but they go days or weeks without running water. We complain about "headaches" and call in sick. They get shot at as others are hit and they keep moving. We put on our anti-war shirts and go meet up with our friends, they fight for your right to wear that shirt. We talk trash about our "buddies" when they aren't around, they know they may not see one of their buddies again. We walk around the beach, the streets, they patrol the streets, searching for insurgents and terrorists. We sometimes complain about how hot it is, our soldiers wear their heavy gear, not daring to take off their helmets to wipe their faces. We go out to lunch, complain about the food or the service, they don't get to eat anything at times. We make out bed and wash our clothes everyday, our troops wear the same thing for weeks, but they make sure their weapons are clean. We always are going to the mall to get our hair and nails done, to shop, they don't have time to brush their teeth today. We get angry about being held overtime, some of our soldiers get told they will be held over another two months. We call our boyfriends or our girlfriends and ask them to go on a date tonight, they wait for the mail hoping there is a letter from home. We give hugs and kisses to them, they hold their letters close to get their love's scent. We usually just roll our eyes or get angry when a baby cries, our soldiers get a letter with a picture of their child and wonders when and if they will meet again. And we see only what we want to see and nothing more while our troops see the broken bodies lying around them.

We are about "we", but they are about "us."

You know how us kids, when asked to go to the store by our parents and we don't, remember that our soldiers they do exactly what they are told, even if it puts their life in danger. And we were sitting around watching television, our soldiers were taking the little time they had to make a call, write home, sleep, and eat. We are happy to be home with our families, or annoyed, but our strong troops they are lucky to make it home to see their families for the first time in a long time. We hang our American flags in front of our houses, our soldiers have fought for us to represent such a great country. We are and should be very proud to be living in the land of the free, and all you soldiers are proud to fight for our freedom and theirs. I know for a fact that or country is considered the home of the brave. Thanks goes out to all the brave ones, our U.S. military, that gives us that title.

Think of them, remember those who have fallen and all of our troops. When you see a fellow soldier, thank them. They would sure love to hear that they are truly appreciated. Happy Memorial Day America!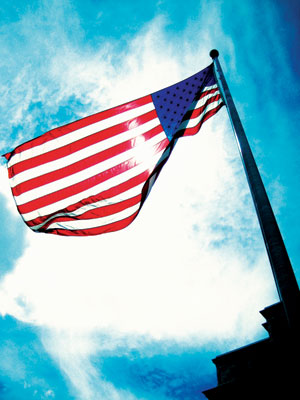 © Seita O., Palatine, IL