9/11 Tribute
May 3, 2011
What happened on 9/11 was one of the most horrific things that has ever happened in American history. With the innocent people who died, and the history of the twin towers lost.

Some people will never be able to forget what happened that day. They lost the people they love, and can't do anything about it. I think I speak for most of us when I say that our hearts go out to them.

Although it seems terrible, there is one good thing that happened with this. Americans became closer. Flags came out, silly arguments between states stopped. We weren't happy, but we realized that being together as Americans is what matters most. States shouldn't fight, we should come together.

About 3,000 people died. And all because the world can't get along. Just because that one group of people doesn't like us Americans. And honestly, they are the dumb ones. They don't realize the pride we have for being Americans. When people ask me where I'm from I don't whisper Iowa in the USA. I hold my head high and proudly say I am an American from a small town in Iowa. We all should.

All should take out there flags get a flag pole and proudly hang it high! America is a great country, and I wouldn't want to live anywhere other than where I am now.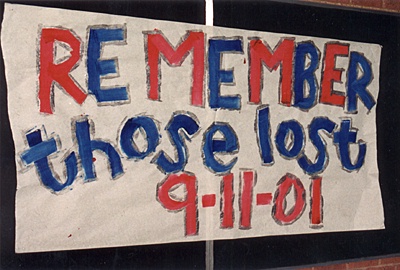 © Christopher A., Phoenix, AZ