Where Do You Draw the Line?
December 10, 2010
National security is one of the most debatable issues being discussed in todays times. How much security is to much and how much freedom is a bad thing?
Well when you keep everything secret, many civilians start to speculate everything that's going on. Making sure no one is hiding anything and if they are, what is it that they are hiding?
Yet, when everything is out in the open people's lives are put in danger. Putting war plans on the internet can cause mass destruction.
The line should be place where our values our. War plans and other sacred information should not be placed for all to see. However, when someone is laid off or doesn't do their job people should be guranteed the privilege to know. That's the chance you take when you work for the goverment.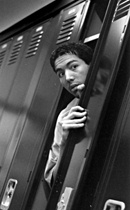 © Paulina A.,Marblehead, MA